12 March 2009 Edition
Sinn Féin calls for Irish to get top billing on street signs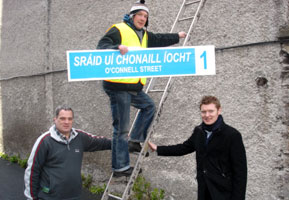 SINN FÉIN has just launched a campaign to give Irish priority on street signs, as part of its programme for Seachtain na Gaeilge.
Dublin Sinn Féin TD Aengus Ó Snodaigh and Ruadhán Mac Aodháin, one of the party's local election candidates in Dublin Central, have erected an Irish-language street sign just above the main signpost on O'Connell Street at the junction of Bachelor's Walk and O'Connell Street.
Dublin Sinn Féin Cllr Críona Ní Dháligh is to put forward a motion at the next meeting of Dublin City Council to make Irish the leading language on all bilingual street signs in the city.
Speaking after this week's street-naming, Ruadhán Mac Aodhán said Sinn Féin is celebrating Seachtain na Gaeilge and taking the opportunity to highlight the Irish language.
"We have called for an increase in the use of Irish in the Dáil, proposing that 50 per cent of all of next week's proceeding take place through the medium of Irish. We hope that Taoiseach's Questions will be taken in Irish.
"We are also calling on the Government to honour Seachtain na Gaeilge by ending its attack on all-Irish early immersion teaching."