12 March 2009 Edition
International Women's Day marked in Belfast and Dublin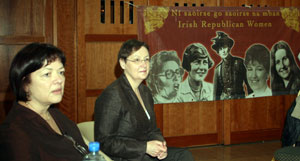 Conference hears of generations of Irish women revolutionaries

BY EMMA CLANCY

HISTORIAN Margaret Ward, author of Unmanageable Revolutionaries, was the guest speaker at an International Women's Day conference in Belfast last week organised by Sinn Féin's Gender Equality Department and attended by more than 80 people.
Welcoming participants, Sinn Féin MEP Bairbre de Brún said: "International Women's Day grew out of the 1911 disaster in New York, when more than 140, mainly immigrant, women and girls were killed in a factory fire.
"Here in Ireland, our emphasis is on the role women have played, and continue to play, in the Irish struggle for freedom and equality for all, and we remember the contribution of those women today."
Earlier that day, Bairbre de Brún had laid a wreath at the Women's Garden of Remembrance on behalf of Sinn Féin in memory of all the women who have given their lives in the struggle.

UNMANAGEABLE REVOLUTIONARIES
Margaret Ward enthralled the conference participants with a vivid description of the struggles fought by the Ladies' Land League, Inghinidhe na hÉireann and Cumann na mBan.
"If you can imagine the expectations of women's place in society during the Victorian period," Ward said, "and then imagine these determined Irish women running around the country – without hats or chaperones! – organising tenant farmers, challenging landlordism and physically preventing evictions. Well, that was the Ladies' Land League.
"In 1881, the Land War in Ireland was at its height and bad harvests had prompted fears of another famine. Leaders of the Land League, which was founded in 1879 and represented an alliance between the Fenian movement and the Irish Parliamentary Party, asked Irish women to take control of the Land League movement by forming a Ladies' Land League – which would be outside the terms of Britain's Coercion Act."
Ward discussed the role of the Parnell sisters, Anna and Fanny, in establishing a highly effective, militant movement led by women.
The Ladies' Land League was dissolved following the signing of the Kilmainham Treaty by Charles Stewart Parnell in 1882 and the release of political prisoners, and Ward outlined the difficulties women had in becoming involved in political life in the decades that followed.
She said the formation of Inghinidhe na hÉireann (Daughters of Erin) in 1900, with Maud Gonne as president, had organised a new generation of women to promote the Irish language and culture and to campaign on social and political issues.
"Then Cumann na mBan was formed in 1914 and, while it made a very important contribution, it limited women to a supporting role. In James Connolly's Citizen Army, however, women were organised in exactly the same way as their male counterparts and they played a significant military role during the 1916 Rising," Ward said.
She explained that nationalist and republican women constantly had to fight on two fronts – to fight for national independence but also to fight against old-fashioned prejudices to demand an equal status in the movement and a voice in the political decision-making process.

HEROINE
"My absolute heroine of the Irish national movement is Hanna Sheehy-Skeffington," Margaret Ward told the conference.
She outlined the role Sheehy-Skeffington had played in demanding the vote for women, founding the Irish Women's Franchise League in 1908 with her husband, Francis Sheehy-Skeffington, and Mary and James Cousins.
"During this period it was very difficult to demand the vote for women because it was not on offer in the Home Rule Bill being aimed for by the Irish Parliamentary Party. To demand women's suffrage was viewed as being anti-Home Rule which, of course, it was not," Ward said.
Hanna's husband, Frank, was a pacifist, Ward explained, and his friends and comrades were stunned to learn that he had been captured and shot dead with other journalists on the orders of a British officer during the 1916 Rising. Hanna travelled to Britain and the US, demanding justice for the murder of her husband and she was jailed several times.
"She refused to accept a penny of the compensation offered by the British Government," Ward said.
She outlined the role that Sheehy-Skeffington played in the following decades as a tireless and uncompromising, feminist republican - in opposition to the Treaty, as an active member of Sinn Féin, in opposition to the conservative policies of the Free State Government and against the rise of fascism during the 1930s before her death in 1946.
FLOWERS: Charlene O'Hara, Sue Ramsey, Alex Maskey and Bairbre de Brún in the Memorial Garden 
We want bread and roses too!

BY ELLA O'DWYER

INTERNATIONAL Women's Day was celebrated in Wynn's Hotel in Dublin last Friday as upwards of 60 women came together to hear a range of speakers give telling and anecdotal accounts of the key role of women in society, both nationally and internationally.
Organised by Sinn Féin, the event was hosted by Dublin MEP Mary Lou McDonald, who spoke of the resilience of women in trying times, not least in periods of recession such as today.
"We've faced times of recession before where women have carried the burden but with great resilience and strength. Women have always been to the fore in fighting back against economic decline, whether through their presence on the picket line or their ability to juggle with domestic finances in order to feed a family," she said.
Women are very much on the receiving end of the current downturn in the economy losing jobs in all sectors particularly the retail industry, she said. And a more disturbing factor is that domestic violence increases in times of economic recession. But as McDonald pointed out:
"While people have their heads down in the gloomy financial crisis affecting Ireland today, women tend to be the ones who remain positive, constantly looking for ways to change things and find the light at the end of the tunnel."
In 1912, "Bread and Roses" became the slogan of thousands of textile workers, mostly women and girls who included native and immigrant workers, who won big concessions over wages, conditions and hours for the entire textile industry following a three-month strike in Lawrence, Massachusetts, USA. The women of the strike adopted the now famous slogan, "We want bread and we want roses too!"
Michelle Gildernew MP recounted her own experience as a breast-feeding mother and a very busy minister. She recalled her own mother and grandmother who, like her, were community activists. That background factors into her own strength as a woman because it can take strength to handle the challenges facing her on a daily basis. She brings her new baby to work with her, which can mean breast-feeding the baby during meetings. She guesses that some of the male political representatives at Stormont may deride her for that but says that  if she encourages other women to breastfeed in the workplace that she will have achieved a lot for women.

NELL McCAFFERTY
Derry-born Nell McCafferty was the guest speaker, her pithy and amusing anecdotes having her audience laughing as she recalled the struggles past and struggles present of a famous Irish feminist and civil rights activist.
One side-effect of a recent heart attack was that she would lose her top teeth, which would have to be removed. Nell told her dentist, "You can take whatever you want but you can't take my teeth," the pensioner said, and she was forced to remortgage her house to save her teeth at a cost of over €20,000. Nell also reflected on the fact that her pension, like that of so many others, would be cut but she quipped there was always the consolation of a bus pass – "That's if that too is not taken away!"
A number of guest organisations were also present on the day, including the African Women's Network, the Parents' Resource Centre from Bonnybrook, the Family Resource Centre in St Michael's Estate, and women from O'Devaney Gardens.
The Irish Citizens' Information Bureau and Age Action ran stalls at the event.
NELL: Nell McCafferty with Mary Lou McDonald (left) and Helen McCormack