12 March 2009 Edition
Plan to axe projects in disadvantaged areas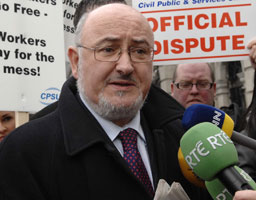 Sinn Féin Health spokesperson and Dáil leader Caoimhghín Ó Caoláin TD has learned that health and community projects in disadvantaged areas, including 120 announced by Government last December, are now in jeopardy as the Department of Finance in the 26 Counties is set to block their funding. Ó Caoláin called for the announced funding for these projects to go ahead.
Speaking on Tuesday Ó Caoláin said:
"I have been reliably informed that the Department of Finance axe may be about to fall on health projects in disadvantaged urban and rural areas across the State which were to be funded by the RAPID and Clár programmes and administered by the Health Service Executive.
"On 23rd December last Minister for Community, Rural & Gaeltacht Affairs Éamon Ó Cuív and Minister for Older People Máire Hoctor announced €4.6 million for the 2008/2009 scheme. The focus was to be on 'providing enhanced services and facilities for older people that will enable them to lead independent lives within their communities'.
"These 120 projects range from a drop-in centre in Cavan Town to a Meals on Wheels service in Dublin 12, from a bus project in Cork city to refurbishment of an Alzheimers' Society facility in Drogheda.
"The Clár programme (for disadvantaged rural areas) and the HSE were also to fund projects to the tune of €8.9 million. These are projects such as day-care services development in Castleblayney, Co. Monaghan, upgrading and equipping of 10 day-care centres for older people in Co. Donegal and refurbishment of community centres in Kerry.
"I understand that the HSE was required to re-submit all these capital projects to the Department of Finance and that it is widely expected within the sector that funding will be withheld.
"I am issuing a last-minute appeal to the Minister for Finance Brian Lenihan TD not to axe any of these projects which are based in disadvantaged areas and which are especially important in enhancing the health and quality of life of older people."