5 March 2009 Edition
Bairbre de Brún visits Gaza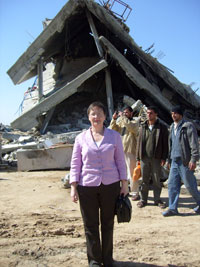 MEP Bairbre de Brún travelled to Gaza and to the West Bank this week as part of a group of MEPs from across the political spectrum in the European Parliament to see the situation at first-hand and to discuss the prospects for a move forward.
The delegation travelled to Palestine on Wednesday 25 February and met with politicians, civil society, the UN and humanitarian and human rights groups.
The MEPs saw the huge difficulty caused by ongoing settlement activity on the West Bank and the threat this poses to the establishment of a viable Palestinian state.
De Brún, who previously visited Palestine as an election observer in the 2006 election, said the level of destruction in Gaza is "unimaginable".
Speaking from Gaza she said:
"Everywhere you turn there is rubble where once there was a living community.  People have no sense of security or safety and are angry that no one has been held to account for what happened.
"People in Gaza need to know that the international community is committed to a peaceful future, that the steps needed to underpin reconstruction are taken and that there will be proper mechanisms of accountability for what happened.
"We need to see the free movement of people and goods into and out of Gaza. The international community must ensure this happens."

FOOD AND MEDICINES
Before leaving as part of the delegation, the Six-County MEP spoke in a European Parliament debate where she said:
"The humanitarian situation in Gaza is intolerable: 88 per cent of the population require food aid, hospitals lack essential medical supplies, and thousands of tonnes of aid cannot be brought into Gaza as not enough trucks are being let in.
"The Israeli Government policy of blockading Gaza and the recent huge military assault have resulted in the disaster we see today. The Israeli authorities should end the blockade and open the border crossings."
In the same debate, MEPs heard the EU High Representative for the Common Foreign and Security Policy, Javier Solana, state:
"The war in Gaza ended a month ago, on 18 January, and I think you would agree with me that it feels like yesterday. The scale of the suffering and destruction was immense and it has left us all with a bitter taste in our mouths.
"The humanitarian situation today remains heart-breaking. We need to find urgent solutions to get aid in and to reduce the level of suffering of the people."

EU-ISRAEL TRADE
Other MEPs such as the Welsh nationalist Plaid Cymru's Jill Evans spelt out specifically who caused the damage leading to the current humanitarian catastrophe and how the EU's refusal to engage directly with Hamas had exacerbated the situation:
"Any assessment of the damage caused in Gaza must draw attention to the deliberate targeting to destroy the infrastructure and the economy. We saw schools, factories, homes and a hospital deliberately attacked.

The humanitarian situation today remains heart-breaking. We need to find urgent solutions to get aid in and to reduce the level of suffering of the people 
"Once again, we have witnessed the destruction by Israel of projects funded by the European Union and, rather than take action on this, we are talking about upgrading trade relations when conditions on human rights are currently being breached under the current agreements."
Bairbre de Brún added:
"Mr Solana talked about how pursuing the same policies can bring us back to the same place. Well, I agree.
"In 2006, the European Union refused to recognise the Palestinian Unity Government, which included members of Hamas, and yet we are ready to recognise a new Israeli Government which may include members who reject a two-state solution, who do not support a Palestinian state."