5 March 2009 Edition
Belfast International Women's Day event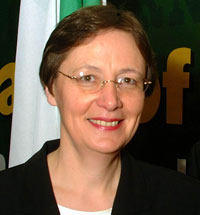 Challenges facing women today
A SINN FÉIN event in Belfast to celebrate International Women's Day will feature respected historian and author Margaret Ward. Bairbre de Brún MEP will introduce the conference which begins at 1pm on Saturday 7 March at the Balmoral Hotel in Belfast.
Bairbre de Brún said:
"Margaret Ward is the chair of the Women's Centre Regional Partnership and an acclaimed author. Her work has made an invaluable contribution to documenting the rich history of the role of Irish women in the national movement and the republican struggle, and in the movement for gender equality."
Margaret Ward will be delivering two presentations: 'Unmanageable Revolution-aries' and 'The Life of Hanna Sheehy-Skeffington'. These will be followed by discussions.

STRUGGLE FOR EQUALITY
Bairbre de Brún explained:
"We will not only be discussing the historical role of women in Irish politics but the contribution of women today, all over the world, to the ongoing struggle for equality and social progress.
"While we will be celebrating how far this struggle for equality has come, we will also be discussing the key challenges faced by women today, in Ireland and internationally."
Music and entertainment celebrating International Women's Day will close the conference.
Information stalls from various different community and voluntary sector organisations will be provided and alternative therapy sessions will also be organised for participants.
The event is being organised by Sinn Féin's Gender Equality Department.