5 March 2009 Edition
Time for alternative government as public finance crisis exposed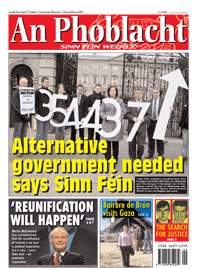 EXCHEQUER figures released on Tuesday, outlining a €2.3 billion shortfall compared to the same period last year have been described by Sinn Féin Vice President Mary Lou McDonald as "a public finance crisis" that cannot continue to go unchallenged. Speaking from Leinster House just after the figures were released, the Dublin MEP added that an "alternative government" was needed.
McDonald said:
"This afternoon's exchequer figures are sobering. The public finances continue to freefall and the government has still not delivered a real plan on how it intends to reverse this trend. Sinn Féin supports the call for a new budget but let's face facts, what we really need is a new administration at the helm.
"And let's not kid ourselves that the economy would be in better hands with Fine Gael in government. Their economic model, like the government's, is without vision or purpose. They, like the government, have no strategy, no purpose, and no vision for getting Ireland back to work.
"In government Sinn Féin's focus would be on keeping existing jobs and in tandem delivering a three-year job creation strategy. We would target those sectors of the economy where growth is possible such as agri-food, research and development and green technology.
"The government is set to pump €7 billion from the National Pension Reserve Fund into AIB and Bank of Ireland. Yet it refuses to initiate a school building programme to take our children out of dilapidated prefab buildings and into fully resourced school buildings. In government Sinn Féin would use this money to frontload critical infrastructure projects such as a school building programme.
"Ireland needs a political alternative. With Fianna Fáil and Fine Gael's combined support in the most recent opinion poll at just 53% Sinn Féin is obviously not alone in this view. It is time for a government that sees economic prosperity and social responsibility as the ultimate benchmark of its success. Sinn Féin wants to be part of such an alternative."

On Tuesday evening Sinn Féin Finance Spokesperson Arthur Morgan TD supported a Private Members Motion in the Dáil, which called for a new budget for 2009.
Morgan pointed out that an income levy to 6% on salaries of €200,000 and over would yield €130 million annually to the exchequer. He said that he trusted that the Minister for Finance and all the other government ministers who enjoy salaries in this bracket would be "more than willing to do their patriotic duty and pay such a levy".
He also asked whether the Minister had considered confining to standard rate of income tax the deductions and reliefs allowable at the 41% rate given that such a measure could, according to figures from the Minister's own department, amount to a sum 'in the order of €1 billion'?
"Will he also not consider abolishing the PRSI ceiling; such a measure would bring in €223 million in a full year", Morgan said.
The Louth TD warned against an approach which would tax "those who can least afford it and who have the lowest disposable incomes".

Unemployment figures
Responding to live register figures released by the Central Statistics Office (CSO) on Wednesday, Arthur Morgan said the government could not continue to ignore the fact that the €5 billion deficit in public finances is directly related to job losses.
"As a result of the sharp increases in unemployment tax revenue is now €2 billion below estimates while spending on welfare and medical cards is €1.5 billion over budget. VAT receipts are significantly down as families batten down the hatches and are simply afraid to spend.
"The Government's budget last October did nothing to stimulate the economy nor protect and create jobs. As it now stands unemployment figures will most certainly exceed 400,000 by the end of the year. This is a crisis that cannot continue to go unchallenged.
"We do need taxation reform. We do need efficiencies in our public finance spend. We do need to address wastage. The Commission on taxation needs to bring forward their report in advance of the Dáil summer recess.
"However the government's sole approach on cuts and borrowing is fundamentally undermining Ireland's economy. The number one priority should be retaining and creating jobs. It should be getting Ireland back to work", he said.
He said a plan was needed to hold on to or create the 1,000 jobs a day that are being lost.
"Success is possible but not until the current government delivers a plan. If they cannot it is time for them to go", he said.
Arthur Morgan attended a briefing on behalf of Sinn Féin, on Wednesday morning with the Department of Finance during which the party was invited to submit 'ideas' for the governments 'emergency budget'. Sinn Féin will be making a submission.

'THOSE WHO HAVE THE MOST MUST PAY THE MOST'
On Monday, during a two-day visit to Counties Offaly and Laois Sinn Féin President Gerry Adams said that those bankers and developers whose greed had put housing beyond the reach of ordinary people and undermined the state's competitiveness must be made be made to shoulder the burden of any tax increases Taoiseach Brian Cowen intends to implement over the coming months. He accused the government of having facilitated bankers and developers to distort the housing market during the 'Celtic Tiger' era, helping to destroy the Irish economy.
"Those with political responsibility in this state must ensure that the developers and the bankers who destroyed our economy and used the housing market to do so, are made to pay the price. If, as the government has said, increased taxes are to be introduced, then those who have the most must pay the most", the Sinn Féin President said.

Adams said that despite what government spokespersons would have people believe, drastically rising unemployment figures are not solely the result of international economic factors. The policies pursued by the government had left the state more vulnerable than its European neighbours to the effects of the global economic downturn. These included "policies such as 'light touch' regulation of banking and financial institutions, the over-reliance on revenue generated by an over-heated construction industry and the failure to properly assist indigenous industry, to develop an effective export strategy and to plan strategically for the future".
"The government shamefully squandered what was a unique opportunity to develop a modern, progressive economy that could have been the envy of other countries. Now businesses here are closing at an alarming rate and the spectre of emigration has returned.

HOPE IS NOT LOST
"But let me clear. Hope is not lost. There is a way forward. The number one priority is to get this country back to work", Adams said.
The Sinn Féin President said there is a need for retraining much of the workforce to build the skills base to create and fill new jobs.
"There is plenty of work to do in this country for those construction workers currently facing unemployment. We badly need to build critical infrastructure. We need to build schools to replace prefabs. We need to build decent public transport infrastructure", said Adams.
He argued that the government must also act to provide immediate assistance for new business start-ups and that the government must intervene to ensure that banks provide badly needed credit to ensure that viable Irish companies survive.
"An aggressive export strategy is urgently required. This is an area of huge potential. Currently 90 per cent of exports from this state are from foreign-owned multinationals. Irish enterprises must develop their export capacity. It is Government policy that must drive this.
"It is time to provide hope and opportunity at this time of deep uncertainty for Irish businesses and workers.
"It is time for this government to stop talking and start acting", he said.
ADAMS IN OFFALY AND LAOIS: Gerry Adams was in Offaly and Laois on Monday and Tuesday. While in Tullamore, the Sinn Féin President officially launched the election campaign of Sinn Féin's local Government candidate Brendan Killeavy. Pictured above are Gerry Adams, Brendan Killeavy and EU candidate for Ireland East, Tomás Sharkey