26 February 2009 Edition
Childcare and housing provision pilloried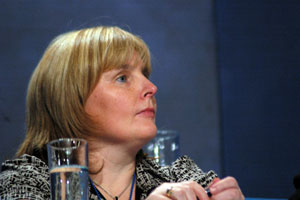 Sinn Féin Ard Fheis 2009

BY STEPHANIE LORD

DUBLIN Sinn Féin Cllr Críona Ní Dhálaigh spoke in favour of Motion 88 on childcare for the first Ard Fheis section on Saturday morning.
The motion reaffirmed Sinn Féin's commitment to the provision of universal public childcare as a right, paid for through direct and representative taxation, and called for support for the SIPTU trade union's campaign to reverse the imposition of the Community Childcare Subvention Scheme. It also said, in relation to the high costs, that the "era of childcare as a second mortgage must end".
Cllr Ní Dhálaigh spoke of how childcare providers and users have expressed real concern that some working parents will not qualify for the scheme but will not be able to afford to pay for private childcare facilities, and also the scheme will exacerbate the challenges for lone parents trying to move away from social welfare and access meaningful and sustainable employment.
Cllr Ní Dhálaigh concluded by quoting the Inner City Community Childcare Providers' Network, who said:
"Lack of investment in this area is a false economy. Good quality pre-school education and childcare improves outcomes for children and families. This has been accepted in the state's own policy, scrimping here will mean more families in crisis and disadvantaged children entering school at a continuing disadvantage. Breaking this cycle costs money, there is no way of getting around that."
Críona  Ní Dhálaigh added:
"Mol an oige agus tiocfaidh sí."
The Ard Fheis backed the motion.

HOUSING
Drogheda Sinn Féin candidate for Louth County Council, Paddy McQuillan urged all delegates to support Motion 89, drafted by the Ard Chomhairle, and committed Sinn Féin to placing social housing at the centre of a new approach to meeting housing need, and campaign for a doubling of output of social housing across the country to meet need.
McQuillan spoke of the lack of social housing across the state with over 59,000 on the social housing waiting list and 5,000 people homeless.
"In my home town of Drogheda alone, there are over twelve hundred on the council housing waiting list. Many of these people have been waiting for over four  years now to be housed. These families were forgotten and ignored by the so-called Celtic Tiger, and many others who were in employment simply could not afford to buy their own home in the over-priced housing market."
Motion 89 also called for the promotion of Government assistance to those currently at risk of losing their homes due to reckless banking practices and campaign to stop illegal eviction practices. It was passed.
Speaking during the same section, South Dublin Sinn Féin representative Shaun Tracey spoke of the 270,000 vacant properties across the 26 Counties, 45,000 of which are in Dublin alone.
He called for councils to be supported in securing empty units for social housing and said that government, developers and bankers should be made to pay a high price for their "economic treason".