26 February 2009 Edition
Final steps to freedom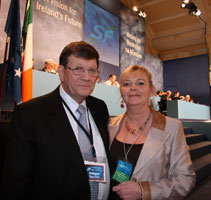 Sinn Féin Ard Fheis 2009 
IN HIS opening address to the 2009 Ard Fheis, outgoing Sinn Féin Vice-President Pat Doherty roused activists to get themselves ready for the political struggles we face, not least the upcoming elections this year.
In the North, he said, there are clearly those who want to see a return to majority rule.
"There are even some who have convinced themselves that the current arrangements can lead them there. They are deluding themselves. Even if Mark Durkan has strayed onto the ground of ending the power-sharing demands of the Good Friday Agreement before being forced into a hasty retreat, the message to the 'little Craigavons' on the DUP backbenches is very clear: Sinn Féin will not tolerate or allow any slippage from the Good Friday Agreement institutions.
"Power sharing with nationalists and republicans on the basis of equality – in institutions which are dependent entirely on the successful operation of the all-Ireland architecture – is the only way forward."
It is now vital that the working out of the Agreement on policing and justice is swiftly implemented, Pat Doherty insisted.
"As we all know, it takes a certain degree of political courage to find agreement with opponents but a whole lot more to carry through with its implementation. The dramatic fall from the top table demonstrated by David Trimble shows the political price which people pay for failing to show courage to implement what was agreed."

LISBON
Sinn Féin had taken the lead in the 'No' campaign against the Lisbon Treaty, he recalled. Having taken people's votes for granted the first time, he said, the Establishment parties paid the price at the polls.
"Now, as they cobble together plans for their re-run of the treaty, the new tactic seems to be to try and frighten the Irish people to back them  – with some even peddling the lie that the current economic mess is down to our relationship with Europe – not their relationship with corrupt bankers and dodgey property developers.
"So we need to ready ourselves in the coming months for another battle on this issue. Experience tells us that the lies might be bigger, the attacks stronger and the propaganda more outlandish as the new referendum approaches. But we have seen all of that before, and I have no doubt we will be prepared, active and ready as the battle for direction of Ireland's future in Europe is played out."
And there are also the local and EU elections.

"We will also face electoral contests across the country with the EU elections and significant local elections in the 26 Counties. I know work is well advanced on these campaigns and we all know the importance of the coming months."
All the work republican activists put in, he said, some of it seemingly mundane, will lead us to Irish unity.
"This is the time to take the final steps to freedom and reunification," he said, insisting that Sinn Féin must have a presence in every parish in Ireland.
"Republicans active in our communities, in our workplaces, in our social circles – all driving forward the united Ireland agenda. Much progress has been made, but much more needs to be done."
Recalling his predecessor, the late, great John Joe McGirl, Pat Doherty said:
"When I took over the role from the late John Joe McGirl in 1988, Ireland was a very different place. Our peace strategy has been the catalyst for that change. Ireland has been transformed. But much more needs to be done. The phase of struggle we are now in is crucial. This is the time to take the final steps to freedom and unity in Ireland."