12 February 2009 Edition
Fifth Column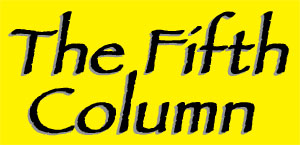 Golly gosh
CAROL THATCHER, daughter of the Wicked Witch of Westminster, has been axed by the BBC for calling a black tennis star a "golliwog".
Thatcher's daughter made the comment off-camera to Adrian Chiles, presenter of the teatime TV magazine show, The One Show, and guest Labour-supporting Jo Brand with several other people present. When the Thatch refused to apologise (her PR people dismissed it as "a harmless joke"), she got the boot.
Carol (55, so she should know better) is said to be "angry" at the reaction to racism and said:
"I'm completely baffled by all the fuss."
She didn't fall far from the tree, did she?


The Sunday game
THIS season's first-ever Football Association-approved match on a Sunday in the Six Counties ('Liverpool Legends' v Bangor) inspired a talk by Donal McAnallen in which the floodlight was on the spoilsports of the 'Never on a Sunday' brigade.
The law against sports on Sunday introduced in 1695 as the Lord's Day Observance (Ireland) Act under William of Orange apparently didn't have as much of an impact on working families as it has done in modern times.
"Most people were working six or seven days a week," explains Donal.
"Sport was largely an elite activity," he says (a bit like most of the Olympics and synchronised swimming, I suppose).
"The common man or woman didn't get much of an opportunity to play, except on feast days." And if their relentless working week didn't stop them, the ascendancy upper classes made sure that no riff-raff snuck in by other means. "Irish athletics had rules precluding manual labourers and so on from taking part."
And that, comrades, is what inspired, in part, Michael Cusack to form the GAA in 1884, bless his cotton football socks.


Gerry Ryan's excess
OPINIONATED RTÉ radio star Gerry Ryan is still holding out against a pay cut that his fellow presenters are reluctantly conceding one by one.
Pat Kenny's acceptance of a 10 per cent cut won't see him queuing in Aldi or Lidl for bargain baked beans and cheap as chips because he'll still have about €750k a year to play around with. Ryan, though (always keen to tell others how they should live their lives, thinks RTÉ needs him more than he needs them and the taxpayers (the people who pay his wages!) should mind their own business while he minds his money – at €560k, more than half a million a year!
That makes even me sit up and listen.


Don't mention the Fine Gael pension
MEANWHILE, Fine Gael, the party of self-proclaimed fiscal rectitude, hasn't managed to wangle former leader, Taoiseach and now EU ambassador to Washington John Bruton to take a cut in his pension.
Wealthy farmer Bruton takes home a ministerial pension of €94,600 on top of his ex-Taoiseach and state pensions.

 

Behan too good
BAD BOY Colin Farrell seems to have been dropped as favourite to play IRA Volunteer, literary genius and bon viveur Brendan Behan because he's too clean-living now.
The former hell-raiser was tipped to take the role of Behan in a biopic based on the one-man play, Confessions of an Irish Rebel.
There'll be a few stage-struck republicans acting up at the Sinn Féin Ard Fheis who would fancy the role – and some wouldn't have to get into character to play Brendan Behan (you know who you are).



Les Miserables, 1916
WHAT is it with Hollywood, London's West End and Irish republicanism nowadays. We're in danger of becoming very chic and oh so luvvie.
A London theatre company (aptly named 1916 Productions) is looking for a writer to pen 'Easter, 1916 - The Musical'. And Gweedore-based film company Scannáin Lugh is planning a movie about Na Fianna Éireann to mark the centenary of the republican scouting movement founded by Constance Markievicz in 1909.
What next? A romantic comedy: 'An Phoblacht – Sleepless in Sevastopol Street?' I'm Tom Hanks; where's Meg Ryan?