29 January 2009 Edition
All-party Oireachtas committee backs Sinn Féin senator's report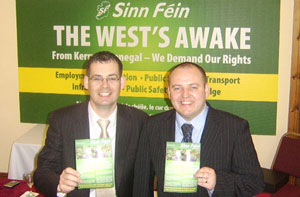 Huge step forward for West of Ireland – Pearse Doherty
THE all-party Oireachtas Committee on Community, Rural and Gaelteacht Affairs has adopted the recommendations of a report  written by Sinn Féin Regional Development spokesperson Senator Pearse Doherty, Awakening the West: Overcoming Social and Economic Inequality.
Doherty described the development as a giant step forward for the West of Ireland and called on the Government to implement its recommendations. He said:
"I want to congratulate and thank the members of the committee for adopting this very important report into social and economic inequality in the West of Ireland. I particularly want to thank those members of Fianna Fáil, Fine Gael and the Green Party for their kind words on the report and their support for its recommendations. I am particularly glad to see all party consensus on this matter because if we are to adequately address the needs of the West of Ireland it is imperative that we set aside party politics and work together.
"This development is a huge step forward for the West of Ireland and the campaign for social and economic equality."
The report will now be printed and sent to all Government Ministers with the full backing and support of the all-party Oireachtas Committee.
Urging Government ministers to now follow through on the report, Pearse Doherty said he intends to continue meeting people across the western seaboard to enlist support for the implementation of its recommendations.
"If this report and its recommendations are properly implemented, I believe that we will make serious inroads into addressing and reversing decades of economic and social inequality in the West."

REPORT'S KEY ISSUES
DEPOPULATION: Rural population movement between 1926 and 2002 saw a decline of 40 per cent of the populations of Clare, Cork, Donegal, Galway, Kerry, Leitrim, Limerick, Mayo, Roscommon and Sligo.
STATE BODIES: The structuring of state institutions and delivery of public policy have also contributed to the current inequity between the regions.
JOBS: Agriculture, forestry, fishing and construction amount to 20 per cent of all employment. Each of these sectors is undergoing serious difficulties.
FISHERIES: In 2007, only 2,400 people were directly employed in fishing. Three quarters of the entire fishing workforce is located in Counties Donegal, Kerry, Galway, Mayo, Clare, and West Cork. The total catch for these fleets has declined from 390,000 tonnes in 1995 to 210,000 tonnes in 2006. The Irish fleet has declined by over 30 per cent since 1993.

IDA JOBS: In 200, just 8.1 per cent of the 9,216 new IDA-supported jobs were located in Counties Donegal, Leitrim, Sligo, Mayo, Roscommon, Clare, Limerick or Kerry. While Galway and Cork accounted for 21 per cent of these new jobs, they were concentrated in the gateways of Galway City and Cork City.
GRADUATE RETENTION: Only 38 per cent of the western region's graduates find their first place of employment in their home counties in comparison with 79.5 per cent for Dublin.
TOURISM: The North-West has suffered a decline of 30 per cent in overseas visitors since 1999. In 2006, Clare, Mayo, Roscommon, Leitrim, Sligo and Donegal combined generated just 9 per cent of the overall tourism revenue.
ROADS: Of the 19 national road projects in construction at the end of December 2007, just two were located in the western seaboard region, amounting to only 75 out of 458 kilometres of national roads.
RAILWAYS: The Western Rail Corridor is the only major inter-regional rail project for the western counties under Transport 21 and is now at risk due to Government cutbacks. The Western Rail Corridor will cost less than €200m, compared to the Metro North in Dublin, which is estimated to cost €3.7bn.
HOSPITALS: It is projected that by 2014 there will be a further 1,698 bed closures in public hospitals in the western seaboard under its 'Regionalisation Scenario' and hospitals in Sligo and Castlebar are facing destabilisation and downgrading if the National Cancer Care Strategy goes ahead as planned.
SCHOOLS: Of the 396 applications from primary schools in Counties Kerry, Cork, Clare, Galway, Roscommon, Mayo, Sligo, Leitrim and Donegal, only 72 (18 per cent) have progressed beyond initial stages.
GAELTACHT JOBS: In 2007, one in eight jobs were lost in Údarás na Gaeltachta-assisted companies. The lack of employment and services in the Gaeltacht is adversely affecting the socio-linguistic environment of Gaeltacht areas.

REPORT'S KEY RECOMMENDATIONS
The report sets out a lot of detailed proposals to deal with the key issues affecting the West. The key proposals include the following:-

A single Government department to be given overall responsibility for regional development.
All state bodies compelled by law to assess whether policies being developed would create regional imbalance and amend those policies accordingly. A Regional Development Impact Assessment Framework should be established to facilitate this.
To address the clear imbalance in job creation in the West there should be regional and sub-regional job creation targets set out for Enterprise Ireland, the IDA and other enterprise support agencies.
Establishment of a self-sustaining state agency with a property portfolio to promote entrepreneurial activity at local level in the South-West, North-West and Western counties.
Forfás to carry out an immediate review of the capacity of the Western seaboard region to attract Foreign Direct Investment and the measures which need to be taken at a strategic level to improve its competitiveness and boost employment opportunities.
The National Development Plan 2007-2013 should reintroduce its policy of having a specific goal of achieving balanced regional development with set targets for each region.
The Western Rail Corridor – critical to the development of the West – should not be subject to cutbacks but proceed as planned. There should be a review of the Claremorris to Collooney section as matter of priority.
The Atlantic Road Corridor, from Waterford to Letterkenny, should be a seamless dual carriageway built under public finance.
State financial support should be provided to pilot next generation broadband schemes in at least three towns in each of the 10 western seaboard counties in which broadband infrastructure enables it.
The Department of Communication, Energy and Natural Resources to identify renewable energy zones in the western seaboard region and bring forward proposals for the development of community and wider regional renewable energy projects.
The 1,700 public beds in the region's acute hospitals which are threatened with closure under the HSE's PA Report to be retained.
The National Cancer Strategy revised to provide for a balanced regional approach, particularly in relation to surgery and radiology.
A coherent strategy to maximise Garda visibility in rural areas.
A clear Government policy in relation to the minimum number of post offices that are necessary. To save a number of post offices at risk of imminent closure, the Government should intervene in the form of a public service obligation order (PSO).
The government to bring forward a Charter of Rights, based on the needs of the individual islands, which would be guaranteed in law. These rights would form the basis of a strategy to repopulate the islands and encourage young people to stay.
All plans and statutory provisions for Gaeltacht areas integrated into a comprehensive and cohesive planning process, including language planning, local and physical planning, education planning, structural planning and social planning, including family support services.