22 January 2009 Edition
Fógraí bháis: Pat Lynch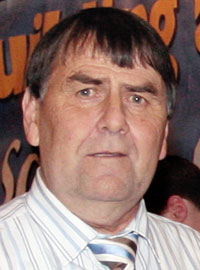 PAT LYNCH, who joined an IRA Active Service Unit on the border in 1969 and was a former POW, passed away recently, and his passing was felt with great sadness amongst the communities of south Monaghan, south Armagh, north Louth and much further afield.
Pat, of Courtbane and formerly of Dunard, Inniskeen, was widely known and respected in GAA circles and as a community leader in general, particularly in his native Inniskeen.
Pat Lynch was born in 1950. He attended Inniskeen National School and Carrickmacross Technical School. He had a great love for Gaelic football and played for Inniskeen Grattans up until 1977, when ill-health forced him to retire. In 1968, he was a member of the winning county minor championship team.
GUN BATTLE
Pat had been a proud republican all his life, having joined Óglaigh na hÉireann in 1969 when he became a member of a local Active Service Unit. In October 1971, after a fierce gun battle with the British forces at Drumgooley, Pat was arrested and charged with possession of weapons and remanded to Mountjoy Jail. Having made an impression on the judge, Pat was sentenced to just two weeks and, taking into account time on remand, he was set free.
After his release, Pat returned to active service along the south Armagh border. In April 1972, during an operation along the Mullyash border, Pat was arrested alongside his comrade, Brendan Finnegan. Both were charged, convicted and sentenced to Mountjoy Jail. They were later transferred to the Glasshouse in the Curragh military camp.
On his release from prison, Pat once again returned to active service with the 2nd Battalion, South Armagh Brigade, Irish Republican Army. He continued the fight to free this country from British rule until ill-health forced him to take a less active role.
In latter years, Pat became a leading member of the local Sinn Féin organisation and was often sought out for advice by younger members of the party. On 17 November 2007, just under 12 months before his untimely death, Pat was made an 'Honouree' by County Monaghan Sinn Féin at a special ceremony in recognition of his lifetime of commitment to his local community and to the republican struggle.
HIGH ESTEEM
Pat passed away in St James's Hospital in Dublin following an agonising fight, which lasted years, against kidney failure. The high esteem in which he was held was clear to see by the thousands of people who traveled from across Ireland and abroad to pay their respects during his wake and funeral.
Pat was buried in St Mary's Graveyard, Inniskeen. His funeral cortege was flanked by a republican guard of honour.
 An oration on behalf of the Republican Movement was delivered by his close friend and comrade, Tommy McMahon. Tommy said:
"If I had to use a few words to describe Pat's life, those words would be love and courage. Pat had a great love for his wife Eileen, their son Joseph, daughters Deirdre, Mary and Sinead and grandson Ciarán. When you walked into their home you could feel the love and happiness there; it was always a house full of laughter and craic, with Pat providing many a funny story.
"Pat's other great love was a love of his country. In the late 1960s, as the nationalists of the North marched to gain civil rights for their people, Pat watched as these peaceful marchers were batoned off the streets by the RUC with back-up being provided by the loyalist mobs. It was at this time that Pat and many other young men decided to join the ranks of Óglaigh na hÉireann.
"When Pat made the decision to join the IRA he was fully aware of the grave consequences it may have. Pat quickly became an active member in the Republican Movement and helped to build up and train the IRA in the Inniskeen area. In 1968, an Active Service Unit was formed and in late 1969 it carried out one of its first attacks on the RUC barracks in Crossmaglen.
"In 1973, during an attack on the Keady barracks, his friend Mickey McVerry was shot and critically wounded. Although under heavy fire from the British forces, Pat and his comrades showed great courage and fought their way out and carried their dying comrade with them.
"Pat continued operating with the Active Service Unit until around 1977, when he became increasingly ill. Although unable to take part in operational service, he continued to play an active support for the unit and he was always prepared to do his best for them.
"Pat and Eileen also showed great courage in their family life. During the 1970s and 1980s they saw difficult times together as they raised their children in Dunard in Inniskeen. They endured the untimely death of their young daughter Deirdre to cystic fibrosis, and then Pat was diagnosed with major kidney problems. While Pat's health may have deteriorated over the years, he never lost his sense of humour and love of life.
"In conclusion, Pat Lynch is many things to many people. He is a husband, a father, a father-in-law, a grandfather, a brother in law, an uncle, a friend, a clubman, and a man whose great laugh could be heard in the pub. But to me he is a man of love and courage, a friend, a comrade, a man who we will all miss."
Pat is survived by his wife Eileen, son Joseph, daughters Mary and Sinead, grandson Ciarán and brother Gerard and by a multitude of loving friends.
The Irish Republican Movement wishes to again sympathise with Eileen and all the Lynch and McArdle family on their loss and ours.
I measc laochra na hÉireann go raibh sé.