22 January 2009 Edition
Belfast solidarity with Palestine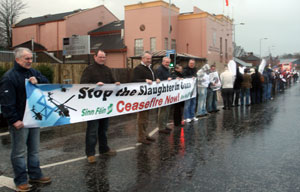 SINN FÉIN activists in Belfast held a day of action last Saturday to raise money for Irish Medical Aid for Palestine, a registered charity with the belief that good health is a basic right, and access to appropriate health care is an integral element of that right – one being denied the Palestinians.
Irish MAP works with all sectors of Palestinian society for the improvement of health in Palestine.
Supporters were out in force before 9am on Saturday morning and the day of action continued until late on Saturday afternoon.
Collections were held at Castle Street, Oldpark and Ardoyne, Lower Falls, Beechmount Avenue/Falls Road junction, the SPAR at the top of the Whiterock Road, the bottom of the Whiterock Road, Park Centre, Kennedy Centre, Westwood Centre and ASDA, the
Andersonstown Road beside Casement Park, Iceland at the Busy Bee and the Andersonstown Road near Connolly House.
On the Andersonstown Road, one man who had been begging for money near a Sinn Féin collection point, approached one of the collectors and put all the money he had into the collection bucket.
Over 10,000 leaflets in support of the people of Gaza were also handed out to motorists and passers-by. The leaflets ran out around lunchtime on Saturday, such was the interest from the public.
A large white-line protest was also held on the Andersonstown Road outside the Felons Club at 3pm on Saturday.
Around 200 republicans took part in the protest, including deputy First Minister Martin McGuinness, Junior Minister Gerry Kelly, MEP Bairbre de Brún and Sinn Féin MLAs Sue Ramsey, Paul Maskey and Jennifer McCann.
Bairbre de Brún said later:
"The response from the public has been exceptional and people were happy that they were able to help the people of Gaza in a practical way by contributing to the collections."