22 January 2009 Edition
Fifth Column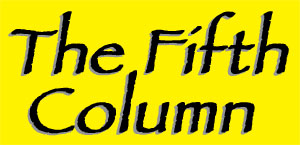 Ghost of Dáil Past
THE Oireachtas's official ceremony in the Mansion House (on the eve of Sinn Féin's spot-on event) to mark the founding of the First Dáil had the leaders of all the Dáil parties getting up to say their piece.
Our media viewers may analyse what was actually said but Irish Times scribe Deaglán de Bréadún was as surprised as us to see one figure haunted by his party's political past and little future follow Sinn Féin's Caoimhghín Ó Caoláin to eulogise the 'men of violence' (and the women)  who established the First Dáil by use of what I think is today called, er, terrorism.
"Who is that vaguely familiar-looking man with the crew-cut making his way to the podium?" de Bréadún puzzled. "Why it's Senator Cannon of the Progressive Democrats. Weren't they formally interred in the vault of history months ago?
"It was as if Cathal Brugha himself had come back to life and resumed his post as the first ceann comhairle."
Ciarán Cannon as Cathal Brugha? It's enough to make Des O'Malley turn in his political grave.


Labour friends of Israel
ISRAEL may have been all over Gaza but the Labour Party on Dublin City Council – and particularly a grizzled veteran of the old Stalinist Workers' Party faction – have been all over the place on Gaza as well.
When Sinn Féin Councillor Daithí Doolan tabled a motion on Gaza at the January meeting of the capital's local government body, Fianna Fáil objected that it was outside the council's power until Daithí cited precedents of the capital's local government commenting on apartheid South Africa.
But then Labour Councillor Eric Byrne weighed in against the motion, opposing it because there was no mention of Hamas – as if that in any way justifies the Israeli onslaught on Gaza.
Internationalism and solidarity with oppressed peoples, what about ye?


Labouring for Israel
MEANWHILE, Dublin Labour TD Joanna Tuffy has been flying the flag for Israel.
She wanted the title of an existing UN Special Rapporteur to reflect 'balance' and include a reference to Israel, as if the title wasn't onerous (or long) enough already
Tuffy tried to include Israel in the job description of the United  Nations Special Rapporteur on the Situation of Human Rights on Palestinian Territories, when debating a weak motion from Deputies Mulcahy and Dooley at the EU Affairs Committee of the Dáil last week which sought a hearing to see whether there was enough evidence to justify a call for a suspension of the EU-Israel trade agreements.
They were also debating an even more bizarre motion from Labour Party Deputy Joe Costello (convenor of the Ireland-Israel Parliamentary Friendship Group) that asked that the Israeli ambassador be asked to take a trip home to tell this political masters that Joe – sorry, the Government – was 'upset' (why not just expel him?). 


Labour shunt
CURIOUSLY, when Sinn Féin Councillor Christy Burke tabled a motion at the Dublin City Council monthly meeting to name a site in the north inner city earmarked for a community resource in honour of the recently-deceased Independent Councillor Tony Gregory, Councillor Dermot 'Smarty Pants' Lacey, the Right Honourable Member for Knowitall, tried to have the motion shunted off the agenda to the Protocol Committee rather than let the Shinners' motion go through.
We know that Smarty Pants can't abide Sinn Féin but why didn't the Labour councillors from the north inner city who were oh so eager to tell the media how much they admired Tony Gregory pipe up to support Christy Burke's eminently sound and community-backed motion?