22 January 2009 Edition
ROBERT HAMILL INQUIRY : RUC Reservist protected suspect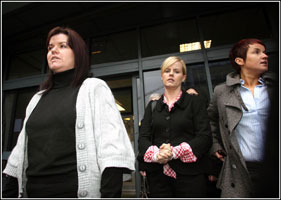 Murder suspects known by RUC

BY LAURA FRIEL

WITHIN two weeks of the murder of Robert Hamill, the Catholic man who died after a beating by a sectarian mob in Portadown in 1997, the RUC knew the names of his killers, the Hamill Inquiry heard last week as public hearings began in Belfast.
Investigating RUC officers also had evidence that a fellow officer, RUC Reservist Robert Atkinson, was protecting one of the killers, advising him to destroy vital forensic evidence and keeping him abreast of developments within the investigation.
Lead counsel Ashley Underwood outlined the details of the case.
"By 10 May, the RUC had the identities of a number of Protestants who were said to have murdered Mr Hamill.
"Further, it had evidence that one of the reserve constables in the Land Rover, Mr Atkinson, had protected one of them by telling him to get rid of his clothing and by keeping him updated about the investigation.
"However, no one has been convicted of murdering Mr Hamill and only one person was convicted of an affray arising out of the attack. Reserve Constable Atkinson was eventually charged in relation to a conspiracy arising out of the alleged tip-offs that he gave but was not prosecuted."

'KIND OF LYNCHING'
Robert Hamill died on 8 May 1997, 11 days after he was beaten by a sectarian mob, having never regained consciousness.
The killing was subsequently described in the media as a kind of lynching. The notion of a lynching emerged not only because the victim had been targeted because he was a Catholic and the evident unwillingness of the state to protect Robert Hamill and to subsequently investigate and pursue his killers.
Complicity and cover-up must be part of the preoccupation of the current inquiry. Unfortunately, the remit of the inquiry has already been restricted, first by the limitations imposed by the Inquiries Act and, second, by the decision of the team not to scrutinise the role of the Director of Public Prosecutions.

ATTACKED
In April 1997, Robert Hamill and his companions were attacked by a loyalist mob in Portadown town centre after leaving a Catholic social centre to walk the short distance home.

A mob of around 30 loyalists identified the four as Catholics as they turned to walk towards the Catholic Obins Street area. The mob appears to have chosen their venue specifically to target Catholics making their way home.
The spot was a notorious venue for sectarian attacks by loyalists and the RUC mobile patrol had been specifically deployed to the area for that very reason.
The four friends – Robert Hamill, two female cousins, and one of their husbands, Gregory Girvan – decided to walk after seeing the RUC Land Rover in the mistaken belief that the RUC presence would thwart any sectarian attack.
Despite the RUC patrol's presence, none of those involved in the attack made any attempt to mask their faces after the attack and the mob made no attempt to make a quick getaway.
Rather than make their escape, the mob blocked the road, delaying the arrival of an ambulance called to the scene to attend the fatally-injured Robert Hamill and another one of his companions also kicked unconscious.
Throughout the assaults, the four armed RUC officers at the scene made no attempt to intervene to protect Robert Hamill or his companions. A short time prior to the attack, a passer-by alerted the RUC patrol of the likelihood of an imminent loyalist attack.
During the attack, one of Robert's female companions banged on the side of the RUC Land Rover, pleading for assistance before throwing herself over the stricken body of her cousin in a desperate attempt to protect him from the mob herself.
After the attack, the RUC made no attempt to check the two injured men or administer first aid. Instead, they remained in their vehicle until moments before the ambulance arrived, some 20 minutes later.
At that time the mob was still at the scene but the RUC made no attempt to question or arrest anyone.

MURDER SCENE
Visiting the scene of the murder last week, the inquiry team, the Hamill family and their solicitor, Barra McGrory, were able to view the position of the RUC Land Rover and the scene of the attack.
A Land Rover was placed in situ to allow a detail assessment of the view afforded the RUC from inside their vehicle.
The family said they were struck by the clear view of the area which was available from inside the vehicle when it was parked at the junction of Woodhouse Street and Market Street, only a few yards from where Robert Hamill had been attacked.
The family's lawyer called from across the road to a colleague in the rear of the Land Rover, who was able to hear from inside the vehicle even with the doors closed and engine running.
Evidence from the pathologist who carried out a post-mortem described the cause of death to be traumatic diffuse axonal injury (TDAI), a type of injury more often associated with road traffic accidents but which can also be the result of repeated heavy kicking or punching.
"The amount of force required to cause TDAI and the amount of force required to cause unconsciousness needs to be severe," said Professor Crane, the state pathologist, at the hearing.

KEY FACTOR
Of course, the length of the assault will become a key factor in determining the negligence of the RUC officers at the scene. But even if – and the pathologist is only suggesting this is a possibility – Robert Hamill died as a result of several swift blows to the head, other bruising to his body was extensive, which implies the assault was sustained.
Clearly, an earlier intervention by the RUC might have curtailed the attack and proactive intervention may have even prevented it from taking place.
The RUC officers staying in their vehicle and their failure to give first aid all smack of complicity.
But the actions of the RUC at the scene were only the beginning of the failure of the RUC to protect Robert Hamill.

RUC DISTORTIONS
In the immediate aftermath, the RUC attempted to distort the nature of the incident to which four of their officers had been witnesses. Initial RUC press statements spoke of a "clash of rival gangs" during which "police found themselves under attack".
A second RUC statement claimed the patrol had "immediately intervened to gain order and prevent assaults". Only later did the RUC admit the incident had been an attack on four people by a large crowd.
Six men were charged with murder but charges against five were subsequently dropped and the sixth reduced to causing an affray. The Director of Public Prosecutions declined to prosecute the four RUC officers.
Speaking outside the hearing, Robert Hamill's sister, Diane, said her were determined to get to the truth.
"If there were any mistakes made, we want those to be acknowledged, but if there were any deliberate actions taken to allow the people that murdered my brother to walk free, if anyone helped them, we need that to be exposed."