22 January 2009 Edition
Sinn Féin backs war crimes probe against Israel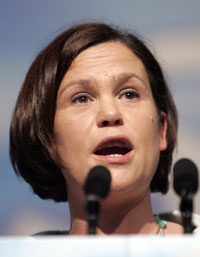 SINN FÉIN Dublin MEP Mary Lou McDonald this week backed UN calls for investigators to be sent into Gaza to examine charges of war crimes by Israel.
Israeli forces declared a cessation of its offensive in Gaza on 17 January. Hours later Hamas said it would give the IDF a week to withdraw fully from Gaza. The 'truce' is far from secure as it is not negotiated and Israel's ceasefire includes the continuation of the siege that is causing a humanitarian disaster.
UN officials expressed outrage after Israeli tank fire killed two boys in a UN school. Irishman John Ging, head of the UN Relief and Works Agency (UNRWA) in Gaza, suggested Israel may be guilty of war crimes.
"These two little boys are as innocent, indisputably, as they are dead," Ging told Reuters news agency as Israel's offensive entered its fourth week. "The question now being asked is: is this and the killing of all other innocent civilians in Gaza a war crime?"
UN High Commissioner for Human Rights Navi Pillay called for independent investigations into possible war crimes after Israel's shelling of another UN school compound killed 42 people, including women and children, on 6 January.
Mary Lou McDonald also said that EU plans to extend trade agreements must remain on hold until questions of human rights abuses by Israel are answered.
"I welcome the ceasefire between Israel and Hamas. However, the fact remains that Israel has questions to answer regarding the targeting of civilians and UN buildings as well as the use of white phosphorous throughout its military attack on Gaza over the last three weeks.
"Until these questions have been answered, the European Union cannot resume its plans to increase its preferential trade arrangements with Israel.
"The EU cannot continue to shirk its responsibility to promote peace in the region. That means tough actions to follow tough talk."
The Dublin MEP explained:
"Israel enjoys many economic privileges from its relationship with the EU. However, Euro-Mediterranean Partnership Agreement obliges Israel to abide by generally-recognised principles of international law and makes preferential trade conditional on Israel respecting human rights and democratic principles. Israel is now, and arguably always has been, in breach of these agreements."
OPEN ALL CROSSINGS
Mary Lou McDonald continued:
"In the interim, Israel must end its blockade of Gaza and open up ALL border checkpoints to allow the maximum amount of food and medical aid in. The international community must also act to ensure that the necessary reparations are put in place as quickly as possible so that the rebuilding of Gaza can begin.
"Hundreds of thousands of people are without access to water and sanitation and many thousands more are returning home to find their homes and communities destroyed."
A report issued late last year by the International Committee of the Red Cross detailed the "devastating" effect of Israel's blockade in place since the summer of 2007 and outlined in detail the ensuing chronic malnutrition in Gaza. The report also noted that the heavy restrictions on all major sectors of Gaza's economy, compounded by a cost of living increase of at least 40 per cent, was causing "progressive deterioration in food security for up to 70 per cent of Gaza's population". It also stated that these realities were, in turn, forcing people to cut household expenditures down to "survival levels".
Sinn Féin Justice and International Affairs spokesperson Aengus Ó Snodaigh TD will be calling for a full Dáil debate next week on Gaza and McDonald urged people to consider donating to Irish Medical Aid for Palestine, which was set up in November 2007 to address the shortfall of medical resources in the region as a result of the ongoing conflict and the effects of Israel's blockade.