22 January 2009 Edition
New York lawyers call for inquiry into murder of Pat Finucane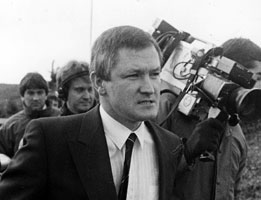 150 New York lawyers met in Manhattan last week to remember slain Belfast human rights attorney Pat Finucane and press for a public inquiry on the 20th anniversary of his murder, which occurs next month.
The New York event was also held to highlight a conference to be held on 13, 14, and 15 February at Trinity College Dublin which will focus on the life and legacy of Pat Finucane and the circumstances surrounding his death.
Pat Finucane was 39 years of age when he was gunned down in his home by a unionist death squad on 12 February 1989.
One of the organisers of the New York meeting and next month's conference at TCD, Seán Downes, said:
"Pat was a fierce defender of human rights in the North of Ireland and represented many individuals from the nationalist community who struggled to achieve a free and independent Ireland.
"It is widely believed that Pat's murder was part of a highly-orchestrated effort on behalf of British Military Intelligence and loyalist death squads. Since Pat's death, his family, friends colleagues and human rights organisations worldwide have campaigned for an independent public inquiry into the circumstances surrounding his death.
"To date, such an inquiry has not been held despite assurances from both the Irish and British governments that this inquiry would take place."
He added that lawyers and human rights groups worldwide have pledged to continue to campaign for such an inquiry until one is held.