22 January 2009 Edition
Palestinians count their losses as humanitarian crisis continues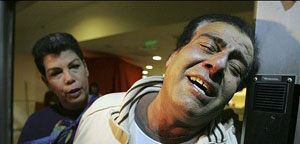 BY EMMA CLANCY
AS THE Israel Defence Force withdrew soldiers from Gaza just in time for US President Barack Obama's inauguration on 20 January, the shell-shocked people of Gaza viewed the devastation left behind.
More than 1,300 Palestinians killed, including at least 400 children; more than 5,500 wounded; and 100,000 people displaced. Four-thousand homes in Gaza were completely destroyed in Israel's 22-day onslaught and a further 20,000 buildings badly damaged, with the UN estimating about US$2 billion in physical damage.
For Dr Izeldeen Abuelaish, a Palestinian obstetrician who lives in the Jabaliyah refugee camp in Gaza and had worked in treating infertility in women in Israel's Tal Hashomer hospital, the IDF's cessation on 17 January came a day too late. Three of his daughters and his niece were killed as the four girls sat and talked in their bedroom on 16 January when the doctor's house was shelled.
While Israel declared a unilateral ceasefire, saying its "objectives" had been met, and Hamas hours later said it would give the IDF a week to withdraw fully from Gaza, the crisis for Gaza's 1.5 million residents is far from over.
The 'truce' is far from secure as it is not negotiated and Israel's ceasefire includes the continuation of the siege that is causing a humanitarian disaster and a promise to begin the slaughter anew if Palestinians continue resisting the Israeli military – as Hamas has said it will if the blockade is not lifted.
Since 18 January, 100,000 Palestinians received running water for the first time since the bombardment began on 27 December but 400,000 are still without it.
All 2 million litres of sewage from the treatment plant in Gaza City, which was bombed on 10 January, have leaked into agricultural land surrounding the plant and damaged pumps are causing sewage to flow into the streets of Beit Hanoun.
The lack of running water, destroyed sanitation infrastructure and continuing frustration of aid efforts by Israel have led the UN's Relief and Works Agency in Gaza to voice serious concerns of potential disease outbreaks.
Israel has allowed only a trickle of medicines and food into the territory from international aid agencies. John Ging, director of UNRWA operations in Gaza said on 20 January: "We have a big recovery operation ahead of us. None of it will be possible until we can get the crossing points open."
The ongoing siege and the brutality of the bombardment clearly constitute war crimes against a civilian population, an allegation even UN representatives including Ging have raised.
Within Israel, nine human rights organisations including B'Tselem condemned "grave violations of international humanitarian law" by the IDF in a joint statement on 14 January and demanded an end to the bombing of civilian targets and an end to the blockade.
A fact-finding team led by Amnesty International found "indisputable evidence" of "the widespread use of white phosphorus" in densely populated residential areas of Gaza. Its use in civilian areas is banned under international law because, like napalm, it sticks to human skin and melts flesh to the bone.
The International Atomic Energy Agency will also begin an investigation into whether or not the IDF used ammunition containing cancer-causing depleted uranium in Gaza.
All eyes, including Israeli eyes, will be on the new US administration for its first moves on the Palestinian issue.
In the face of the silence from Washington as the administrations change over, the EU pledged to play a more active role in bringing about a resolution. But it is entirely committed to the Israeli framework, which aims to continue to boycott the elected Hamas government institutions, pass policing the closure of Gaza and disarming the Palestinians onto the EU and US, while passing responsibility for the Gaza population's needs onto Egypt.