22 January 2009 Edition
Adams wishes new US President well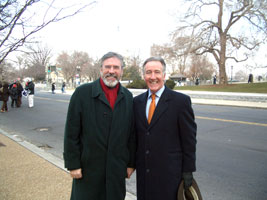 SINN FÉIN President Gerry Adams MP MLA attended the inauguration of new US President, Barak Obama in Washington DC on Tuesday.
Speaking in Washington after the ceremony Adams said:
"I welcome President Barack Obama's very positive speech. He is clearly signalling his determination to tackle the many challenges facing the US people as well as a change in US Foreign policy and on the environment. It was a great honour to be present at the inauguration.
"His words were obviously very uplifting to the American people assembled here. In fact my big memory of today will be about the cheerfulness, sense of purpose and positive attitude of everyone I met.
"The huge crowd of people from very obvious different ethnic backgrounds had a clear sense of the history of this inauguration – 150 years after the inauguration of Abraham Lincoln and the day after Martin Luther King Day. I wish the new President well.
"We are assured that President Obama will continue the US policy of encouraging and supporting the process of change in Ireland.
"As we who live on the island continue to make progress people's minds will turn logically to the issue of unity and an end to division in our country. Sinn Féin will certainly be doing our best to achieve that."
Writing the previous day in his blog on the Belfast Media Group's website the Sinn Féin President wished President elect Obama well.
Adams said:
"I wish him well. I feel very privileged to be a guest at such a watershed moment in the history of the USA. The world needs change.
"Republican Ireland will look to the new administration to help encourage movement towards unity and an end to the partition of our small island. There is plenty of work for Irish America and our friends.
"The rest of the world, including Ireland, will look also for peace in the Middle East and Iraq, for even-handedness everywhere and for progress on the big environmental issues. So tomorrow marks the beginning of all of that. We hope."
Obama inauguration signals profound change

BY DARA MacNEILL


In the early hours of November 5 the newly-elected US President Barack Obama signalled a profound change by subtly referencing, in his acceptance speech, that most powerful of civil rights anthems, A Change is Gonna Come, by the late Sam Cooke ("It's been a long time coming, but tonight change has come to the United States").
Here was proof that Obama's electoral victory was far bigger than mere generational change. This was a social and cultural change of unparalleled magnitude in the life of the United States, a change whose full implications will only become clear in the years to come.
And coupled with that profound shift is the seismic collapse of a crass, mean and valueless ideology which held sway for over 30 years and subordinated the needs of society to the demands of the 'free market'.  
Ironic and fitting that it expired while in the custody of one George Bush, the last of the neo-liberal sovereigns, who exhibited a dull and boorish political stupidity that only excess privilege can breed.
Indeed, that spoiled brat syndrome also ingrained in him a cavalier sense of entitlement that made the world a far more brutal and dangerous place. As a repudiation of this alone, Obama's election was worth celebrating.
His presidency will have to acknowledge one clear reality: the United States emerges from eight dreary years of Bush the Younger a much discredited and weakened power.
While the US has stagnated and regressed, the world has moved on. His administration's first task will be to catch up.

LATIN AMERICA
Change is necessary and required in relation to Cuba, Venezuela and Latin America as a whole, a region whose sense of identity and self has grown in recent years.
This was most graphically illustrated in September 2008, when Bolivia expelled the US Ambassador after it became clear he had made common cause with the opposition campaign to destabilise President Evo Morales.
And Morales was supported with near unanimity by nations across Latin America. They will no longer tolerate the politics of coups and destabilisation.

PALESTINE
But it is almost certainly the Palestinian issue that will provide the litmus test for Obama.
The Israeli assault on Gaza was a watershed. It destroyed Israeli credibility and shredded the myth of self-defence: 1,360 Palestinians dead, to 13 Israelis....a 'kill ratio' of 100:1.
War crimes and gross violations were committed by the world's self-styled 'most moral army'. An impoverished civilian area has been laid waste.
The early signals from the Obama administration were not encouraging, not least the appointment of Rahm Emanuel as his chief of staff. Emanuel is an 'arch-Likud hawk' who volunteered for Israeli army duty, in 1991.
Upon his appointment, his father – a former Irgun member – told an Israeli paper: "Obviously he (Rahm) will influence the president to be pro-Israel. What is he, an Arab? He's not going to clean the floors of the White House."
January 20 proved to be a good day in Washington, Atlanta, New York and probably even in blighted New Orleans. When it is a good day for the people of Gaza and the West Bank we will know that President Obama has delivered change we can believe in.