15 January 2009 Edition
North-west EU candidate steps up to the mark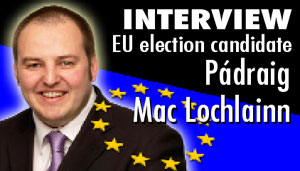 PÁDRAIG MAC LOCHLAINN (35) is a Sinn Féin councillor for County Donegal and is also a Buncrana Town councillor. His father, the late Réamonn Mac Lochlainn, was an IRA Volunteer who served over nine years in English jails. Although he was always very close to his father and is very proud of him, Pádraig is very much his own man and is, as he puts it, "to be judged on my own merits". Judging from his performance to date, his merits are considerable indeed. He tells ELLA O'DWYER about the neglect suffered by communities in the Ireland North-West EU constituency and talks about the European Parliament as 'another site of struggle.'
PÁDRAIG MAC LOCHLAINN is a well known figure in his native Donegal and beyond, not just as the son of a deceased IRA Volunteer but for his impressive history of republican activism. "You don't necessarily inherit your politics," Pádraig says, "though naturally people tend to think that if someone's parent is a musician, a footballer or whatever that the interest will continue down the line.
"I'm very proud of my father, proud of his republicanism. I'm proud of his socialism and the courage he displayed while he was in jail in England. But that's my father – he's Réamonn Mac Lochlainn, I'm another man and have to be judged on my own merits or demerits.
"Obviously, my father has been a major influence and inspiration, as have other people both within and outside of Sinn Féin – people who work in community development, people who champion the causes of the unemployed, the disabled or the causes of youth in our community.
"Over the years, I've been privileged to work with Sinn Féin and community activists. They've all inspired me at different levels. I've been fortunate to be surrounded by inspirational and determined people so I suppose that was the grounding that led me to eventually become involved in Sinn Féin electoral politics."
The death of his father was a heavy blow for the young Pádraig, especially given that imprisonment had already stolen so many important years from their relationship.
"My father died in a swimming accident in Shannon when I was 12. Because he was in jail for nearly ten years,  letters were an important part of our relationship. I learnt a lot from his letters – about other countries, languages and poetry – so the loss of my father was immense as I was getting a great education from him. His death was a difficult period for me. I left school at an early age with no qualifications. However, in my late teens I started to engage in education and by my early 20s I had completed a number of certificates and ended up with a Diploma in Social Studies."
The late Eddie Fullerton was also a strong influence on Pádraig. Eddie was an energetic and charismatic Donegal county councillor who was shot dead in his Buncrana home by a unionist death squad in 1991.
"I'd have helped Eddie Fullerton during his election campaigns. Eddie was a huge influence on me. He was a larger than life figure with great charisma. He had a great way with young people: very empathetic and very genuine. I used to sell An Phoblacht around the houses in rural areas here when I was about 12 and when I was old enough I formally joined Sinn Féin."
In due course, Pádraig got involved in electoral politics, standing for local and general elections in the Donegal constituency.
"I was co-opted onto Buncrana Town Council in 2002, elected to Donegal County Council in 2004 and was Mayor from 2005 to 2006. It was a matter of progression. There comes a time for everyone when they are ready to take on new roles and responsibilities and others see that in an individual. There was a time when I was ready to be a councillor and then to stand for the Dáil elections and now I'm ready to stand for the EU elections. When you're ready you have to step up to the mark. You learn from those around you.
"As EU candidate I have to take off my Donegal hat to an extent as the EU constituency covers 11 counties and stretches down as far as Clare. You can clearly see that the western counties have been neglected."
Pádraig Mac Lochlainn has been working steadily with Kerry TD Martin Ferris and Senator Pearse Doherty to highlight and address the disadvantage and neglect that has afflicted the west of Ireland for decades and much of the West is included in the EU constituency he is contesting.
"Sinn Féin's 'The West's Awake' campaign was established to address the disadvantage and neglect of the western region, and Martin Ferris and Pearse Doherty have already done some really hard work on that campaign. I work closely with both of them on that.

"We have attended numerous meetings to address the problems facing fishermen and farmers in the region. These meetings are face-to-face with the people involved so first-hand information is being gained. It was very important that we went out to meet the various groups because you make solid alliances with them.
"We compiled a report for the Dáil and the Seanad which was completed at the end of  last  year. There's a massive amount of work gone into the report, a lot of detail."
The party membership is currently involved in a campaign against the Budget cuts, Pádraig says, speaking ahead of the deaths in a road traffic accident in Donegal late last year of Sinn Féin activists Dessie McNulty and Sinn Féin Mayor of Ballyshannon Councillor PJ Branley while delivering leaflets and posters for the campaign against the Budget cuts. Pádraig paid tribute to the sterling work of his comrades and the valuable work they were carrying out.
"This is a time when Sinn Féin can flourish because we can demonstrate that we are for people's rights. This is a time when republican politics should be to the fore.
"Pearse and I have make a good team and we have a very good working relationship and his becoming a senator is very important not just for Donegal but Ireland overall."  Pearse and Pádraig lost out on Dáil seats at the last election and only by the slightest margin, indicating the potential support for Sinn Féin.
"Pearse has the ability to strategise and we bounce well off each other. Pearse has the ability to see the bigger picture and we should always look to the wider world – that's something the Movement always did, especially during the war. It will be interesting too to see how Barack Obama performs in terms of realising the promises he made during the election."
For Pádraig, the European Parliament is not just another site of struggle but an extension of the Sinn Féin machine. He empathises with republican activists who, in some regions, find themselves isolated but believes that while there's a need to join the dots at local level, Sinn Féin also needs to do "the joined-up writing at international level".
"I was national director of Sinn Féin's 'No to Lisbon' campaign. That campaign provided an opportunity to team-build amongst local representatives. I found during the Lisbon campaign, as I travelled the country, that you'd find there would be areas where you might have a single councillor working largely in isolation. I really admire those people and I think the Lisbon campaign helped us to join up the dots here. Those councillors are on their own, holding the flag, and they need to feel part of a team. Lisbon was a big help in that."
Pádraig identifies issues for his EU constituency, Ireland North-West – such as farming and fisheries – that are typical of those affecting the other constituencies of Ireland South, Six Counties, and Ireland East, while the health crisis affects all of Ireland. But the entire infrastructure of Ireland North-West needs urgent attention.
"There's nothing linking the main towns on the west coast – no dual carriageway, no rail service. A western rail corridor is essential but any chance of that happening was frozen by the recent Budget cuts.
"Then there's the plight of the fishing sector with fishermen battling against ever-tightening quotas within a very tight fishing zone.
"Unemployment is at four times the national average in Donegal, leading to emigration and other parts of the Ireland North-West constituency are increasingly being hit."
While juggling his Donegal political work with the challenge of taking on board  and addressing the problems arising out of the neglect of the West, Pádraig Mac Lochlainn is not unique amongst EU candidates in expressing a sense of empowerment for the Irish people by the outcome of the Lisbon Treaty referendum.
"The result of the Lisbon campaign showed what an impact a small country like Ireland – which amounts to one per cent of Europe's population – can achieve.
"Although we're a small island, we're not just an outpost of Europe. But to some extent we're restricted in the economic approach we can take because we're part of a global economy. As the referendum result showed, though, the Irish can assert themselves.
"Ireland now needs to build alliances in Europe. Republicans need to see Europe as another site of struggle. We can't achieve our objectives on our own; we need to be looking at the international context as well. We can't operate in isolation. It's important that we exert as much influence as possible in Europe and build alliances and explain our political analysis, for instance the stance we took with regard to Lisbon.
"We need to reach out to people, to explain to them how we're going to create quality public services, good healthcare and education and affordable childcare and transport.
"Sinn Féin has people's attention right now. People can see that the banks are collapsing and the markets are collapsing, jobs are being lost at unprecedented levels, so there's a big opportunity for us to put forward constructive analyses. There's a great opportunity for us now to put forward our socialist analysis on issues like health and education. And we've proved that we can do that."
EU CANDIDATES: Kathleen Funchion, Tomás Sharkey, Mary Lou McDonald, Pádraig Mac Lochlainn, Bairbre de Brún and Toireasa Ferris with Gerry Adams