8 January 2009 Edition
Waterford Wedgwood Irish job losses 'unnecessary'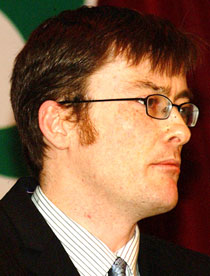 WATERFORD Sinn Féin Councillor David Cullinane has called on Waterford Wedgwood company receiver Deloitte Ireland to ensure that the 800 Irish jobs at the world-famous china and ceramics firm are preserved and the pension scheme safeguarded in any negotiations with potential investors in the company.
Councillor Cullinane said:
"If reports of interested US investors in Waterford Wedgwood are correct that is very good news for the company and its workforce. However, the receiver in his negotiations with potential investors must ensure that the maximum numbers of Irish jobs are retained and that the group's pension scheme is safeguarded.
"With 8,000 Waterford company pensions now under threat it is imperative that any acquisition deal not be facilitated in any attempt to abandon the company pension fund.
"The relevant Government departments must immediately seek a meeting with receivers to ensure that Irish-based jobs and the company's pension scheme are part of any sale of the Irish operations.
"Irish job losses are avoidable if the Government works with the receiver in rescuing the company. The Government's current 'hands-off' approach cannot continue. Waterford Wedgwood has a significant strategic importance for the south-east and as an international Irish brand.
"If negotiations with potential investors are not successful I am calling on Deloitte Ireland to set up a task force comprising of union representatives, local enterprise board officials and the company's management board to come up with an action plan within three weeks with the objective of delivering an attractive alternative for potential buyers of the Irish based operations using the Waterford brand."