8 January 2009 Edition
Another View BY EOIN Ó BROIN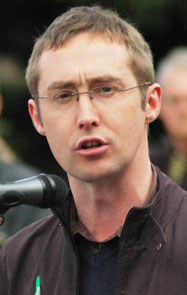 Is a better Ireland possible?
For 15 years the public was convinced that the economic model pursued by Fianna Fáil was the only one available. Full employment, rising standards of living, consistent growth and increased public expenditure demonstrated that, not withstanding the obvious problems, the Celtic Tiger worked, and worked well.
Events in the last year have fatally undermined public confidence in this model of economic development. Rising prices and unemployment, restricted access to credit for individuals and businesses, recession, falling tax receipts and cuts in public expenditure have exposed the Celtic Tiger as a high risk economic strategy which has left Ireland exposed and vulnerable to the uncertainties of global capitalism.
Of course the Celtic Tiger – Southern Ireland's version of neo-liberalism – was never as good as it proclaimed. Before the recession inequality, poverty and social exclusion were endemic. Today these realities are simply becoming more widespread as the failed economic policies of government are coming back to haunt them, and us, with a vengeance.
At the core of the Celtic Tiger model of economic development, like neo-liberalism globally, was a very simple double-barrel proposition. Economic growth could only be achieved through increased competitiveness. Increased competitiveness could only be achieved through lowering costs, such as wages, taxes and public spending.
The costs of this strategy were two fold — inequality and vulnerability. Reducing costs meant that the benefits of economic growth would be unevenly shared. An over reliance on competitiveness would narrow the focus of economic strategy on so called 'comparative advantage' leading to an over reliance on Foreign Direct Investment followed by debt fuelled consumption, particularly in housing.
For government and their advisers in National Economic and Social Council and Economic and Social Research Institute the logic was simple — it's about the jobs stupid. Focus on jobs first, generate economic growth second and people would eventually be lifted out of poverty, inequality and social exclusion.
It now appears that the age old cliché – easy come easy go – is the catch phrase of our times.
With unemployment rising rapidly, and according to mainstream economists set to hit between 10% and 15%, the legacy of the Celtic Tiger will be little more than huge personal debt, a massive oversupply of empty overpriced apartments, and weekly announcements of foreign capital relocating to cheaper operating bases abroad.
So what is to be done? What is the alternative to the failed economic policies of Fianna Fáil and the Celtic Tiger?
It is time to change the underlying principles of economic policy and strategy, and advocate an alternative all Ireland economic strategy.
We need to promote high investment; sustainable economic growth; the integration of social and economic policy; and the promotion of social inclusion and economic equality.
Sustainable economic growth means creating jobs that will last, that are environmentally sensitive and socially useful. The vehicle for such growth has to be both state enterprise and the indigenous small and medium enterprise sector. It should focus on high investment in research and development, renewable energy technologies and information and computer technologies.
Sustainable economic growth must also redefine the meaning of competitiveness away from low cost-high profit, to a more rounded definition, based on high quality jobs, products and social and environmental outcomes.
Integrating social and economic policy means providing world class universal public services such as health, education, childcare, public transport and infrastructure. The goals at all times should be social and economic, creating the conditions for sustainable growth while combating poverty, social exclusion and inequality.
A high investment approach will require increased public and private expenditure. Public expenditure will be required for both economic and social objectives. However incentivising private capital to move to sustainable, socially useful forms of investment and job creation must also form part of the overall strategy.
High investment means higher taxes – there is no other way to say it. Countries that pursue such models of economic and social development – such as Finland and Norway – have found a way to successfully combine high growth, high competitiveness, high quality public services and, by EU standards, high rates of taxation, particularly on those individuals and companies who are in a position to pay.
At the core of neo-liberalism, and the Celtic Tiger model of economic development was a belief in the power and efficiency of the market, to create wealth, jobs and prosperity. For fifteen years it appeared that such an approach was working.
Of course, you could only come to such a conclusion if you closed your eyes to the fact that in the 26 counties;  209,000 households or 5% of the population live in consistent poverty; 690,000 households or 16.5% of the population live in relative poverty; 75,000 children or 7.4% of the child population, live in consistent poverty; 20% of lone parent families live in consistent poverty; 5,000 people experience homelessness; 59,000 households are on local authority housing waiting lists; and that across Ireland at least 5,000 people in Ireland die prematurely each year as a result of poverty and inequality.
If this was a consequence of the boom years, what will these figures look like two or three years into the recession?
There has never been a better time for a radical break with the failed economic policies and strategies of Fianna Fáil. Until recently the battle of ideas had been won by those with a vested interest in ensuring an extreme market-friendly approach to public policy. According to the Community Platform report  A Better Ireland is Possible, these vested interests have sought to avoid debates about redistributive taxation, adequate social spending, and more active state policies to generate successful domestic productive sectors.
But things are changing; the legitimacy of the government and their model of economic development are in crisis. Public opinion is open to new ideas. The hundreds of thousands of older people, students, teachers and parents who have taken to the streets in recent weeks are a demonstration of one simple fact. People want change.
It is time to embrace the policies and strategies that can give real leadership to these people. It is time for an alternative vision for Ireland, one that can create a sustainable, prosperous and equal economy and society. It is to offer people solutions that are radical yet credible. It is time for a better Ireland.

An Phoblacht Magazine
AN PHOBLACHT MAGAZINE:
Don't miss your chance to get the second edition of the 2019 magazine, published to coincide with Easter Week
This special edition which focuses on Irish Unity, features articles by Pearse Doherty, Dr Thomas Paul and Martina Anderson.
Pearse sets out the argument for an United Ireland Economy whilst Pat Sheehan makes the case for a universally free all-island health service.
Other articles include, 'Ceist teanga in Éirinn Aontaithe', 'Getting to a new Ireland' and 'Ireland 1918-22: The people's revolution'.