18 December 2008 Edition
Exhibition and lecture commemorates John Joe McGirl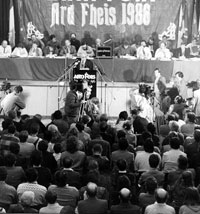 THIS month marks the 20th anniversary of the death of former Sinn Féin Vice President John Joe McGirl. For over 50 years John Joe played a leading role in the republican struggle. His many years of republican activism saw John Joe become a household name throughout Ireland and he witnessed imprisonment in the Curragh internment camp, Mountjoy Jail and Long Kesh.
In 1957, while interned in the Curragh John Joe was elected Sinn Féin TD for Sligo/Leitrim.
He served as a County Councillor in Leitrim for many years and was Cathaoirleach of Leitrim County Council in the 1980s.
Recently John Joe McGirl's family donated original material associated with his life to Leitrim County Library and Archives and some of this material is now on display at the library in John Joe's native Ballinamore to commemorate his death 20 years ago.
The exhibition includes original material including telegrams of congratulations sent to John Joe in the Curragh after his election as TD in 1957, posters and election literature, letters and photographs.
The exhibition opened on Friday 12 December and on the same evening Cormac Ó Suilleabháin, who is researching the political and republican history of County Leitrim in the 20th century delivered the John Joe McGirl memorial lecture in the County Library.
Ó Suilleabhain emphasised the huge importance of John Joe's contribution to the republican struggle which, through the sheer length of his involvement in so many of its phases, Ó Suilleabháin believes, even more enduring even that of Leitrim's other greatest known republican figure, Seán Mac Diarmada.
During the lecture parts of recordings made by the late Fr Dan Gallogly with John Joe McGirl were played as was film footage of John Joe addressing the historic 1986 Sinn Féin Ard Fheis which saw the party drop the policy of abstentionism towards Leinster House.
The exhibition will run for a number of weeks in Ballinamore Library.