18 December 2008 Edition
Bill to remove medical cards 'regressive and unpatriotic'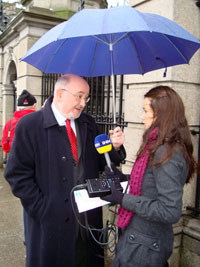 The Dáil has passed the legislation which ends automatic entitlement to the medical card for all citizens over 70. Cavan-Monaghan Deputy Caoimhghín Ó Caoláin described the passage of the Bill as a "day of shame" for all Government TDs who supported it.
The Sinn Féin TD put down a motion calling for the Bill to be rejected. Speaking on the Bill, Ó Caoláin said:
"We in Sinn Féin approach this issue from a point of principle and on the basis of healthcare as a right. We say that access to health services should be based on medical need and medical need alone. We want to see this State moving towards a universal public health system where all citizens would be entitled to healthcare services free at the point of delivery. This Bill moves in the opposite direction.
"We want to see a universal system funded from fair and progressive taxation because we believe that when people are working they pay their taxes so decent public services can be provided for them and for their families. They pay taxes to ensure that they are provided for in old age and that all children, and all those who are unable to work or are out of work, are properly looked after.
"We are constantly challenged when we call for better health services and wider entitlement 'Who will pay for this?' The question should be 'Who paid for this?' and the answer is 'The pensioners of Ireland. They paid for a decent health service in taxes during their working lives.'
"If the Government is looking for savings then instead of taking away medical cards let them take away tax breaks from the developers of private hospitals. That tax break cost €10.6 million in 2006 and that saving alone would have funded 6,000 extra medical cards. We don't yet know the figures for 2007 and 2008.
"Finance Minister Lenihan said his Budget was a 'call to patriotic action'. Minister Lenihan and Minister Harney should recall the patriotism of our senior citizens who worked all their lives, who paid taxes at much higher rates than people paid during the Celtic Tiger years, who made sacrifices so that their children and their grandchildren could enjoy a better Ireland. And their reward is this regressive and unpatriotic Bill. We reject it and we urge every Deputy with a conscience in this Dáil to reject it also."