11 December 2008 Edition
Tracey and O'Reilly selected for Dundrum and Sandyford/Glencullen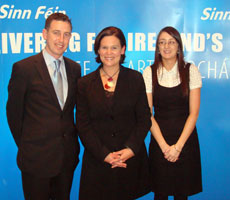 At  a  Sinn Féin selection  convention  in Rathfarnham last week Sinn Féin selected  Shaun Tracey and Oonagh O'Reilly as the party's local election candidates   to  contest  the Dublin South local election wards   Sandyford/Glencullen  and  Dundrum  respectively.
Shaun  Tracey  said his  priority  as  a councillor will be to provide proper  housing  for all those on the housing waiting list, tackling exploitative  practices of estate management companies and helping those facing home repossessions as a result of rising unemployment.
Oonagh  O'Reilly  said she would campaign against the recent budget cutbacks  particularly  those  in  education which she said would have a particularly detrimental impact here in Dundrum.
"I will also be campaigning for decent homes for all  those  in  this  constituency with a particular emphasis on getting both  Rosemount  and  St.  Naithí's flats knocked down and providing the residents there with adequate accommodation."