11 December 2008 Edition
Bringing about change, delivering results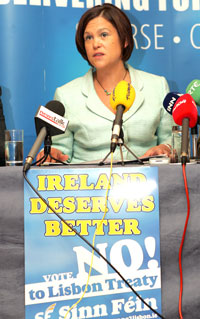 THE Sinn Féin MEP for Dublin and National Chairperson of Sinn Féin, MARY LOU McDONALD was raised in Rathgar, Dublin. Speaking to ELLA O'DWYER at her Strasbourg office, Mary Lou outlines the vital role Sinn Féin plays in Europe.
MARY LOU recalls a happy upbringing. "Mine was a happy childhood. My mother's family – the Hayes's – were from Aherlow in Tipperary and we used to go there every summer for our holidays. I have two brothers and one sister; I'm in the middle."
Her education and early work experience were to serve her well when she became an MEP in 2004.
"Part of my university studies covered European economic policy. It's amazing how life works out because those studies have proven very useful since I became an MEP.
"Some of my earlier work experience also proved helpful when I got onto the Employment and Social Affairs Committee in Europe as I'd worked with the Irish Productivity Centre, an organisation which worked with unions, employers and government as a consultancy assisting people in the workplace in increasing productivity.
"I also worked for the trade union movement for a while in the 1990s and for a training outfit called Education and Training Services, which was run by the Irish Congress of Trade Unions and the Technical, Engineering & Electrical Union."
Politics was always a topic of discussion in the McDonald household and particularly around the time of the 1981 Hunger Strike.
"Our family would have been republican-minded and we were always aware of what was going on. The Ireland I grew up in had 'The Troubles' as the background noise and one of the key moments for people of my generation was the 1981 Hunger Strike. I was 12 then. I remember that time very vividly – the images from the H-Blocks: very haunting imagery and a very traumatic time in Ireland. I remember the upset that was going on in our house. My mother was fit to be tied."
Mary Lou found her political home in the Republican Movement after joining the Irish National Congress when she met members of Sinn Féin.
"When I was in my 20s, a friend of mine invited me to a Fianna Fáil meeting and I went to a couple of more meetings but it was very clear I was in the wrong place. I never joined the Fianna Fáil party but I always had an interest in politics and I got involved in the Irish National Congress, which was a kind of broad front for republican organisations and individuals and I met people from Sinn Féin through the INC.
"While I was in college I wouldn't have been interested in joining a political party. I was doing other things like working on various campaigns and the idea of joining a political party with meetings after meetings didn't appeal to me. I was gradually coming to the conclusion, though, that if you wanted to bring about serious change you'd have to engage with political parties and so I joined Sinn Féin."
In 2002, Mary Lou McDonald stood as a Sinn Féin candidate in the general election in Dublin West and polled 8.2 per cent of the vote.  Part of the strategy was to strengthen the party in that part of the city.
"The party wasn't as strong in Dublin West then so we were running to try to build the organisation in that area. There were really good activists out there in the Joe McDonnell Cumann. It was my first time out as a candidate and it was a brilliant campaign, a great experience. We did quite well for a first outing and it broke the ground for the 2004 European election campaign.
"I remember at the time that the first person who said we had a chance of taking an EU seat was Aengus Ó Snodaigh. I think most people at the time thought he was mad."
Mad or not, Aengus proved to be right and Mary Lou McDonald became one of Sinn Féin's first two MEPs.
"There had been an awful lot of solid work done on the ground across the city and also a lot of work was being done by the Sinn Féin leadership on the Peace Process. As 2004 drew closer we knew that we were getting strong and there was the sense that we could have a good run at an EU seat though none of us were by any means certain – with the exception of Aengus, who was convinced we could do it."

While a lot of people may feel a bit removed from happenings in the European Parliament, the issues Mary Lou McDonald deals with brings home just how important it is to have active representation at European level.
Mary Lou describes a day in the life of an MEP.
"Well, today I arrived in the parliament at 7.30am and did some preparatory work, then I was in the chambers at 9am and spoke in a debate 9.30am.
"Then French President Sarkozy gave his presentation after which there were votes. I had lunch before doing an interview on radio about workers' rights and collective bargaining. After that I had to write up some more material before speaking on the phone to our people in Leinster house and now I'm doing this interview. Next I have to meet a delegation here and I should finish tonight at 9.30pm or 10pm. It's fulfilling and rewarding but it's pretty much non-stop."
Mary Lou McDonald is held in high esteem in the European Parliament and a measure of that was indicated last year when she was short-listed for the 'MEP of the Year' awards by the European Parliament magazine, a first for an Irish MEP.
The issues she deals with in Europe are clearly ones that have a huge bearing on her Dublin constituency.
"Let me give you an example of an issue we were dealing with today – workers' rights. The background to this is that the European Court had made a couple of decisions over the last 18 months which have had disastrous consequences for workers in that employers can pay and treat workers from other countries whatever way they like. We want the parliament to deal with this issue so today we had a debate and I, on behalf on Sinn Féin, was the only voice calling for the kind of legal changes that are required to deal with this."
Being on the Employment and Social Affairs Committee in Europe means that McDonald is well placed not just to advance the best interests of the Dublin constituency but also to promote the Sinn Féin project.

"I chose the Employment and Social Affairs Committee very deliberately because I've always had an interest in working in that area. Also because we recognise that issues around workers' rights and safety are very important for Dublin. We also know that the trend for workers is for employers and their political allies to try to undermine rather than promote those rights.
"I'm also on the Civil Liberties Committee. Sinn Féin has a very good record in Europe for challenging the parliament on these issues and sometimes we get criticised by colleagues from other parties for that. They tend to have a cautious attitude. The received wisdom here is that you have to be careful and 'balanced' and not rock the boat. But now with the recession and the fact that the banking world has imploded, confidence in the market and how absolutely sacrosanct it is has come unstuck and a lot of the political arguments we have been making have proven to be correct. The economic chicken has come home to roost."
Mary Lou's work on eradicating homelessness promises to impact in a very real way on the lives of Dubliners.
"We've also been doing a huge amount of work on the problem of homelessness and the parliament has adopted a declaration calling for what is called a Winter Plan committing the parliament to put an end to homelessness within a given period. It also provides for securing food and water as well as shelter for people.
"The parliament has now adopted this as official policy and that's a huge accomplishment in that all member states will have to provide Winter Plans. They have to set targets for the elimination of street homelessness and we want the European Union to agree a common definition of homelessness."
McDonald identifies a certain fear and stagnation amongst mainstream parties in Ireland in relation to Europe, attitudes that she believes may explain the absence of serious debate in the lead-up to the Lisbon Treaty referendum.
"There's almost a paralysis in Ireland around Europe. It's partially fear and partially laziness. I don't' think the Irish political class want a serious debate around Europe or indeed on many other issues. I think they just have a view that Europe is good and maybe it's also a lack of confidence in that they don't really believe that Ireland can make a difference, that we can make an impact. Also, they're in a comfort zone and reluctant to move out of it."
And her advice to first-time candidates in next year's EU elections? "They should be prepared for a very tough campaign. Sinn Féin is unique in Irish politics in that we have a very positive attitude to Europe but we do not blindly accept everything that comes from the European Parliament. We believe that while working together constructively and positively that you need to protect Ireland's national interests and also people who are vulnerable. If you're serious about being a social Europe it has to be more than rhetoric."
There's also the additional burden for the MEP of the heavy travel schedule. "The travel is the thing that makes it quite difficult, commuting to and from Dublin on a regular basis. If it wasn't for my husband Martin and my family I couldn't do this job. I've two very young children Iseult who is five and Gerard who is two. Where a parent is a public representative it's disruptive to family life but you learn to handle it. I was always very clear in myself that while I have political duties I also must make time for my family."
Mary Lou believes that Sinn Féin has a better handle on the issues and concerns affecting ordinary people than other parties and that this awareness will help the party in what will admittedly be a tough EU election campaign next year.

"Because of European enlargement Dublin is losing a seat in the EU and there will now only be three seats to contest in the city instead of four so every vote is going to count.  I'm under no illusion, it's going to be tough but I'm looking forward to the challenge. But on the other hand I think the Lisbon Treaty result shows that Sinn Féin is the party that is closest to the public in terms of Irish people's concerns about Europe. I think there was a recognition that we weren't afraid to stand up and articulate concerns. There's also the recognition that we are very positive about Europe. We're about positive change and Ireland using our weight in a constructive way. We want to be active partners in what should be a partnership of equals."
Her enthusiasm and commitment to her work is an indication of just how important the work of a well motivated MEP can be and as Mary Lou herself says "It's crucially important to have representation in the European Parliament in that 70% of the laws that impact on Ireland are born in Europe.
"I think it's important for Ireland that we have Sinn Féin MEPs because we're not 'yes women' or 'yes men'. We're public representatives charged with representing the interests and wishes of the Irish people and that's what we do."
So what fires her up? What keeps her going?  Mary Lou says it's the ability to bring about change.
"It's the belief that we MEPs can change things. I really believe that, if you're committed enough, if you work hard enough, if your arguments are strong enough, you can bring about very, very significant change and shape our own futures. If ever was proof needed of that, you only have to look at the Lisbon Treaty campaign.
"Politics has to be about bringing about change and delivering results."