11 December 2008 Edition
Pig processors must resume production immediately - Ferris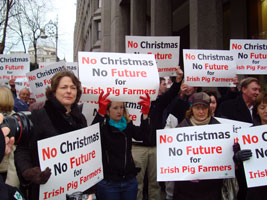 WITH the crisis over contaminated meat threatening to devastate the pigmeat industry in the 26 Counties, pig farmers protested outside the Dáil on Wednesday as talks aimed at restarting the slaughtering of pigs resumed at the Department of Agriculture after adjourning overnight.
Meanwhile, more workers in the meat processing sector were laid off on Tuesday. The trade union SIPTU estimates that the number of workers laid off as a result of the crisis is now more than 1,800.
Sinn Féin Spokesperson on Agriculture Martin Ferris TD has called on pig processors to resume production. He said that there was no reason why the factories should not immediately take back on workers who have been temporarily laid off or for their refusal to process the animals being delivered to them by farmers.
Ferris said: "Everyone involved in this sector has been affected by the crisis. However, now that the immediate doubts over the safety of pigmeat have been resolved it is crucial that production begins again immediately. There is a huge demand to be met and there is no excuse for production to be further held up at the expense of farmers and workers."