11 December 2008 Edition
Sinn Féin Bookshop's top 10 for Christmas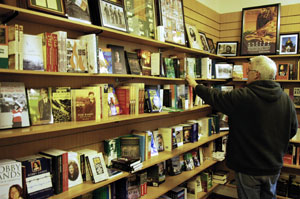 LOOKING for a present that's an antidote to Top Gear's Jeremy Clarkson? Here's a selection of books that can be ordered from the
Sinn Féin Bookshop online
or direct.
An Irish Eye
, by Gerry Adams (Brandon), Price €14.99.
SIGNED by Gerry Adams himself, this is how the Sinn Féin leader saw some of the momentous years in Irish history, from the IRA's decision in 2005 to formally end its armed campaign to its decision to engage with the policing and justice system.
It also includes Gerry Adams's historic appeal to the IRA (New Road to the Republic).
Also dealing with the Celtic Tiger economy, and recounting his visits to South Africa, the Middle East and the USA, the West Belfast MP takes a verbal poke at the Establishment and some of the short chapters look back at the more humourous moments in truly historic times, including The Queen the SWAT Team and Me.
No Ordinary Women: Irish Female Activists In The Revolutionary Years, 1900-1923
, by Sinéad McCoole (O'Brien), Price €24.99.
DON'T be put off by the price. This stylish book will be a welcome gift and will make the recipient not only appreciate your thought but the role that girls and women have played in our struggle as "spies, snipers, couriers and gun-runners".
No Ordinary Women contains biographies of no fewer than 73 activists, lists of women imprisoned after 1916 and over 500 arrested during the Civil War, personal records from prison diaries and autograph books, and illustrations from family albums and personal possessions of the women.
Finely Tempered Steel – Seán McCaughey and the IRA
, by Mairtin Óg Meehan (Republican Publications), Price €10.
PACKED with photos and information, this compact book tells the story of Belfast republican Seán McCaughey, who died on hunger strike in Portlaoise Jail in 1946.
A popular Irish-language teacher, Seán was a dedicated member of the GAA and the Gaelic League who served as Northern Command O/C, Adjutant General and briefly as Chief of Staff of the IRA.
This is an excellent read which will enthral republicans and lovers of local history alike.
Nor Meekly Serve My Time: The H-Block Struggle
, 1976-1981, Compiled and edited by Brian Campbell, co-edited by Laurence McKeown and Felim O'Hagan (Beyond the Pale), Price €12.60.
THE story of one of the most remarkable prison protests in history, told for the first time by the prisoners themselves.
How and why did it happen? This book tells the inside story of those prisoners who refused to be treated as criminals. Using the accounts of men who lived through and survived those years of protest and hunger strike, it gives a moving insight into why ten men gave their lives in pursuit of a political goal.

Ten Men Dead: The Story of the 1981 Hunger Strike
, by David Beresford, (HarperCollins), Price €10.50.
"POSSIBLY the best book to emerge from the past 20 years of conflict," was The Observer's verdict when it was first published in 1987, it stands the test of time as an incredibly moving account of the H-Blocks struggle written by The Guardian's former correspondent in the North and then South Africa. The year before he wrote Ten Men Dead, David Beresford was voted International Reporter of the Year.

Bobby Sands: Writings From Prison
, Foreword by Gerry Adams, Introduction by Nobel Peace Prize Winner Seán MacBride (Mercier Press), Price €14.99.
THE prose and poetry of Bobby Sands, one of the 20th Century's most iconic revolutionary figures, will be read and re-read by generations to come. With dry humour and quiet courage and determination, they chart a young man's battle to preserve his identity against everything the criminalisation regime of the mighty British Government and its forces could throw at him and his comrades in the H-Blocks of Long Kesh.
I Arose This Morning: A Biography Of Bobby Sands For Younger Readers
, Adapted by Denis O'Hearn and Laurence McKeown, Illustrated by Thomas 'Dixie' Elliot (Beyond the Pale), Price €7.55.
THIS short biography introduces the example of Bobby Sands, in life and in death, to a new generation. It is specially adapted for younger readers from Denis O'Hearn's book Nothing But an Unfinished Song (Nation Books and Pluto Press, 2006) and is an excellent 'primer' for the many young people who want to find out more about Bobby Sands, the H-Blocks Hunger Strikers and the republican struggle.
Break-Out! Famous Prison Escapes
, by Paddy Hayes (O'Brien). Price €10.95.
SWITCH OFF Steve McQueen in The Great Escape on BBC for a change, this is the stuff of real-life legends.
Written by the producer of a six-part TV series on escapes, Break-out! carries the strapline: "Dramatic, real-life escape stories that read like fiction." And they do.
It covers breaks from Derry Prison, the Maidstone, MI5 agent Kenneth Littlejohn's escape from Dublin's Mountjoy in 1974, 'The Birdmen of Mountjoy' (Seamus Twomey, JB O'Hagan and Kevin Mallon), and, of course, The Great Escape of 38 republican POWs from the H-Blocks of Long Kesh.

Sinn Féin: A Century of Struggle
, Edited by Micheál Mac Donncha, Introduction by Gerry Adams (Sinn Féin), Price €10.
Lavishly illustrated, A Century of Struggle traces the political history of Ireland and Sinn Féin's first hundred years.
It records the struggle of republicans through the Civil Rights movement, the collapse of unionist one-party rule, internment, Bloody Sunday and the long and tragic war. It reflects popular resistance to British rule, the heroism of prisoners, culminating in the hunger strikes, and the emergence of Sinn Féin as a strong all-Ireland political party – despite all the efforts of its opponents – and the Peace Process.
Family, Friends and Neighbours: An Irish Photobiography
, Photographs and text by Oistín Mac Bride, Foreword by Gerry Adams (Beyond the Pale), Price €25.
Family, Friends and Neighbours offers a view of the Irish struggle which is at once haunting and inspiring. Oistín Mac Bride has combined his extraordinary descriptive skills and his all-too-real-life experience to produce a work which uniquely captures the suffering, the dying and – most movingly – the nobility of spirit of the Irish nationalists. This is a uniquely told story of a brave and resolute people.
An Phoblacht Magazine
AN PHOBLACHT MAGAZINE:
Don't miss your chance to get the second edition of the 2019 magazine, published to coincide with Easter Week
This special edition which focuses on Irish Unity, features articles by Pearse Doherty, Dr Thomas Paul and Martina Anderson.
Pearse sets out the argument for an United Ireland Economy whilst Pat Sheehan makes the case for a universally free all-island health service.
Other articles include, 'Ceist teanga in Éirinn Aontaithe', 'Getting to a new Ireland' and 'Ireland 1918-22: The people's revolution'.