11 December 2008 Edition
Educating to be Free in the Rebel County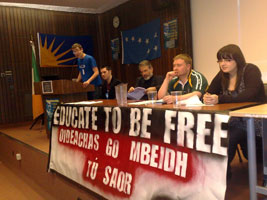 ÓGRA Shinn Féin has launched a new national campaign, 'Educate to be Free', at its National Congress held in Cork over the weekend. The campaign aims to lobby, campaign and agitate for free education, universal access to Irish education, student empowerment and against the privatisation and commercialisation of college campus and students' unions.
The launch of the campaign was the focal point of the annual Nation Congress, which drew a huge number of young delegates, including a notably high number of young women, from throughout Ireland.
There was also a strong presence from areas not represented in a number of years: south Armagh, Waterford, Limerick, south and east Belfast, and Fermanagh.
Talks around the global economy, education and budget cuts, the Lisbon Treaty and the 100th anniversary of Na Fianna Éireann, the republican scout movement, dominated the National Congress
Friday night's proceedings got under way with an opening address by a 'graduate' of Ógra, EU Sinn Féin candidate for the South constituency, Toireasa Ferris. Toireasa spoke of her time in Ógra and of the importance of educating young people on republican politics and ideals.
Following the late conclusion of the business for Friday night of motions, Ógra Shinn Féin assembled in Cork City for a protest calling for the release of IRA POWs. Leaflets were distributed to late-night shoppers.
Following the protest, former POW and UCC Lecturer Felim Ó hAdhmaill gave a public talk in the Sinn Féin office on republican politics with particular reference to the Gibraltar executions of three unarmed IRA Volunteers in 1988.
HONOUR
Saturday was the main day of the Congress and throughout various motions were passionately debated and voted on, and workshops on gender equality, education, the economy, popular culture, and the Irish language took place.
Gerry Adams gave the keynote address (see pages 4/5) and the day concluded with a vibrant and vocal 'Educate to be Free' protest in Cork City centre.
Speaking after the National Congress Weekend, National Organiser Barry McColgan said:
"Young republican delegates from throughout Ireland attended this year's congress, which saw delegates discuss and vote on a number of highly important motions which will formulate our direction and actions for the upcoming year.
"It was an honour to host our comrades from the Catalan youth movement, JERC, and the defiant message from Segi, the Basque youth movement, received huge applause, deeply inspiring everyone in the room."
"The campaign launched at Congress, 'Educate to be free', is timely given the disastrous budget cuts in education in the 26 Counties and the huge changes being advanced in the North.
"It is a broad campaign which will focus on many aspects of education and allows cumainn to localise the issues on education, whether that is fees, classroom sizes, or access to education through Irish.
"It is now up to Ógra cumainn nationwide to take this campaign into their various areas and affect change in education. Raise the call and educate to be free."