4 December 2008 Edition
Fifth Column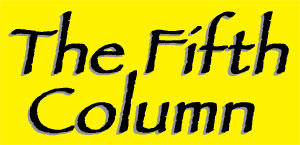 Local UVF issue for British Legion leaders
THE Royal British Legion's HQ staff in London aren't bothered that their new standard bearer in County Derry is not only a former UDR soldier but a convicted UVF death squad member as well.
As we reported last week, Bobby Douglas has just been elected chairperson of the British armed forces official veterans' association. His victory prompted a walk-out by some old soldiers and official complaints from a few. Their new leader did 12 years for his part in the UVF murder of one its own members in 1988. The victim had been beaten, shot and had his throat cut. But this doesn't worry the British Legion leaders in London.
When they were told about the controversy, the British Legion (patrons Queen Elizabeth and the Ministry of Defence) brushed it off as merely "a local issue". It's one for the "local organisation", it said. In other words, we don't care if our man is a UVF man.
Would that be the response if it was a branch in England where the chair was a British National Party figure with the same pedigree as UVF man Bobby Douglas?


Crime figures
STARTLING statistics released by the North's Policing Board reveal that, since 2004, 377 PSNI officers have been the subject of official complaints of misconduct or failing to properly investigate crime. Ah, that's mischievous republicans for you, was probably Ian Paisley Jnr's first reaction. Not so. In fact, ALL of them came from within the PSNI's own ranks of the Police Ombudsman's Office.
These are the figures:-
•    15 formally disciplined, 4 of them sacked or forced to resign;
•    13 referred to the PSNI's Professional Standards Board about claims they had perverted or attempted to pervert the course of justice;
•    1 convicted and dismissed after being formally disciplined;
•    1 has a court case on hold until the conclusion of a formal misconduct hearing;
•    1 resigned before his court case reached a verdict;
•    3 are still under investigation;
•    6 are waiting to hear what action the Public Prosecutions Service might take;
•    3 have been sacked for unsatisfactory performance.
Although the force numbers 9,000 officers, 326 have received written warnings, "advice and guidance" or other disciplinary sanctions which were issued 'in house' by local police chiefs.


Rabbitte in the headlights
PAT RABBITTE – the Labour Party's former leader  who is always showing the Dáil that he thinks he's the smartest kid in the class – didn't seem to know which conference he was at when he was interviewed by John Bowman on RTÉ Radio 1 at the Labour Party 'Special Delegate Conference' on Saturday.
Asked what's the difference between a regular Labour Party gig and a 'Special Delegate Conference', Brother Rabbitte, a frontbench spokesperson, said he didn't know why it was called that. "When Eamon Gilmore comes in you'd better ask him," the former leader said dismissively in reference to his successor.


James Bondage
THE SUN has exposed (if you'll pardon the pun) a Whitehall security specialist with Britain's Ministry of Defence under the headline "MOD spy expert is net sex perv".
Here's what The Sun says:
"One of Britain's top security advisers trawls the internet to arrange kinky sex sessions with strangers, The Sun can reveal.
"Married Dr Philip Davies (45) is a leading authority on intelligence and espionage.
"He is a regular visitor to the Cabinet Office and carries out consultancy work for the Ministry of Defence. He also runs a university course teaching military agents, counter-terrorism cops and MoD personnel – many of whom are female. But despite his highly-sensitive role he also goes online to meet submissive women and confesses: 'I like to hurt girls. Nothing like a good whipping or spanking.'
"On the Informed Consent website he reveals a list of clandestine lusts including piercing, cutting, bondage and rough sex.
"And using the moniker Silk Glove, he reveals in a forum: 'First time I strangled my [then-girlfriend] during intercourse. We'd watched the film Rising Sun, which features a prostitute getting choked to death during sex. She decided she wanted some of the same treatment and said, 'Would you like to choke me?' Well, I mean, who wouldn't?'"
MI5 probably still have him on their books. After all, taking a British Legion view of things, it is a local if lurid affair.


Kilroy may not be here
MEP ROBERT Kilroy Silk, the perma-tanned egotist who was sacked by the BBC as a chat-show host for his anti-Arab rants in the Daily Express in 2004, is the first person to be booted out of the current series of ITV's I'm A Celebrity... Get Me Out of Here! Now fellow MEPs want him to star in He's an MEP... Get Him Out of Here!
An online petition, kilroystepdown, has been set up by all his fellow MEPs in the East Midlands region Kilroy represents to get him kicked out of the European Parliament.
They say he hasn't spoken in the Euro Parliament for three years, since he lost a general election in 2005. They also claim he hasn't been in East Midlands since either.
But Kilroy Silk's Euro stint has achieved something: ending the back-biting amongst Labour, Tories, Liberal Democrats and the UK Independence Party as they band together to try and get him out.
After he was 'let go' by the BBC, a spokesperson for Silky memorably told The Observer: "He is not a racist at all - he employs a black driver."


Go, Harvey, go, go... away
AUSSIE retail tycoon and Gerry Harvey's rasping antipodean tones can be heard on Irish radio stations extolling the virtues of his Harvey Norman empire with the jingle, "Go, Harvey, go, go, go!"
Now he's upset some people by joking at a shareholders' meeting in Australia that his business in 13 stores throughout Ireland was "being hit by the potato famine". Oh, how they laughed. And I'm sure they would have laughed too if Harvey had made a joke comparing sales in Tel Aviv to the Holocaust.
But this is normal fare for Harvey. He once dismissed being charitable to people who are homeless as "a waste". The billionaire homewares merchant drawled:
"Giving money to people who are not putting anything back into the community is like helping a whole heap of no-hopers to survive for no good reason."
Methinks that's not a million miles away from the thoughts of one Herr Hitler or Mr Mussolini.