27 November 2008 Edition
Irish language rights raised at Boundary Commission presentation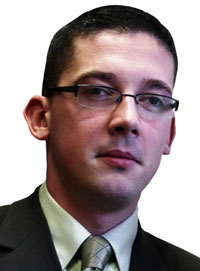 RECENTLY Sinn Féin made several recommendations to public hearings of the North's electoral Boundary Commission. Among the issues raised by Sinn Féin was the inclusion of Irish place names within any new Council boundaries.
Eighty two per cent of submissions from Belfast called for official recognition of Irish place names within any new Council areas, not one single submission opposed this position.
Party members Rosie McCorley (West Belfast DPP sub-group) and Niall Ó Donnghaile (East Belfast Representative) both addressed the commission in Irish, as did Dr Pól Deeds from south Belfast language and cultural centre, An Droichead Teo. Their presentations were simultaneously translated for the benefit of the commissioners and those attending the presentations without Irish.
Speaking after the hearing Niall Ó Donnghaile said,
"It's an excellent indication of how far society is travelling when we are able to make our presentations to the commission through the medium of Irish at this important session today. A wide number of important issues were raised by all those citizens making representations to the commission; of course, among them was the question of recognition for bi-lingual place names within any new Council."
"I would call on the commission to take these sensible and beneficial recommendations on board, in relation to official recognition of many of the rich Gaelic place names within the city of Belfast."