27 November 2008 Edition
Sinn Féin slams threats against community centre staff in North Belfast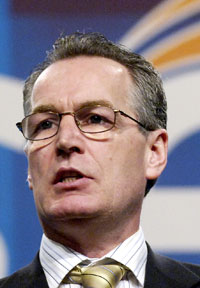 THREATS made by the so-called 'Continuity IRA' micro group against a number of community groups working with the PSNI in North Belfast has been slammed by Sinn Féin MLA for North Belfast Gerry Kelly.
Speaking this week, a short while after the threats were made Kelly said:
"The threats are apparently in relation to the community sector in north Belfast holding multi-agency meetings in order to address pressing issues facing the local community. To have these threats made against them while they are working hard to improve the quality of life for people living in these neighbourhoods is contemptible.
"In short, these groups are now threatening the entire community. These community centres are at the heart of the localities they work in, and offer services that people of all ages and from all sections of the community use. They are well established and have on their premises facilities such as crèches, mother and toddler groups, after school clubs, and senior citizen groups. Is there anyone who isn't on the target list?
"These threats must be lifted immediately. Those who have made them have no support whatsoever and these threats highlight what we already know, that these groups have no logical political direction or programme."