27 November 2008 Edition
Sinn Féin unveils results of Dublin Education Survey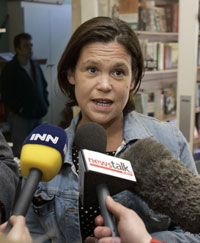 THE initial results of an extensive survey of almost 500 primary schools across Dublin City and County Dublin to establish the impact of the Government's education cuts were outlined by Sinn Féin Dublin MEP Mary Lou McDonald this week. McDonald described the results as "a stark reminder of just how short-sighted Fianna Fáil and the Greens' Budget choices are".
McDonald added that Education Minister Batt O'Keeffe's attack on teachers this week, diverting attention to sick leave, "is petty and indicative of a government without vision or an ability to manage the most fundamental of the states services".
School principals surveyed were asked specific questions about the possible loss of teachers and support staff, class sizes, withdrawal of services/programmes and school build and maintenance programmes.
The Dublin MEP said:
"It is clear from the survey results received so far that Budget cuts are going to put huge pressure on the delivery of education in the vast majority of schools in Dublin.
"The initial results tell us that 25 schools will lose language-support teachers. Seventy-four schools will have a class with 30 pupils or more and 13 schools will have classes with more than 35 pupils.
"A significant number of schools are already experiencing problems in relation to capital projects with funding for general maintenance being refused and funding for new schools buildings being further postponed."
PREFABS
Mary Lou McDonald said the Sinn Féin survey revealed that one school currently has five classrooms in prefabs with three of these 40 years old and another almost 50 years old. It is 32 years since Scoil Naisiunta Eoin Baisde in Clontarf held their first meeting for a new school building.
"What is really shocking about the survey results is that the capital projects being postponed are not new projects. Throughout Ireland's unprecedented good times, successive Fianna Fáil governments failed to invest in the state's primary and secondary system.
"There are now over 1,400 schools on the school building programme yet the Government has actually slashed funding for primary school building with the highest proportion of the funding provided for capital projects in education to be spent on third-level institutions.
"Yet rather than illustrating a vision for Ireland's primary and secondary education system, or indeed capable fiscal management, Education Minister O'Keeffe has chosen instead to attack teachers on a micro management issue of sick leave. The minister has ignored the fact that the overall absenteeism rate among teachers due to sick leave is 3 per cent, which is certainly not high by private sector standards.
"Rather than cripple our education system with short-term, penny-pinching cuts, the Government could have properly invested in vital school building and maintenance projects and also increased key supports resources with alternative public revenue such as the €334m that could have been raised from removing the PRSI ceiling. Minister O'Keeffe, along with his Cabinet colleagues, chose not to and it is our children who will pay the heavy price for many years to come."