27 November 2008 Edition
Fifth Column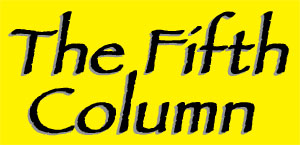 Legion of the UVF old guard
THE Royal British Legion in County Derry has a new chairperson who will be taking the salute from all the old soldiers and the new in his former regiment, the RIR: Bobby Douglas, late of the Ulster Defence Regiment and the Ulster Volunteer Force.
The British Legion is the body that organises the Remembrance Day ceremonies and the Poppy Appeal.
UVF man Bobby is now O/C of the boys of the old brigade of the British Army in County Derry after being elected (yes, elected) by British armed forces veterans at their meeting last Thursday night. The fact that the new Legion leader is what one paper described as a man "acquitted of the bloody paramilitary murder of Samuel Patton in 1988 but jailed for related offences" doesn't seem to bother the majority of the official veterans' body of the crown forces. Patton was a UVF bank robber who had allegedly kept the proceeds of a job. He was also suspected of being a Special Branch agent.
Amidst all the flags, poppies and other traditions that the County Derry Royal British Legion clings to, electing unionist death squad members to office seems to be becoming another tradition.
Two years ago, Russell Watton – who was convicted of wounding three men with intent during a gun attack on a bar in Dunloy in the 1970s – was elected as assistant secretary of the branch. The subsequent outcry forced Watton's resignation.
Bobby Douglas, though, is defending his position.
"This is just about sour grapes," the former UDR soldier and UVF gunman said. "I was voted in by a majority of the members and there is no way I will be resigning or standing down."



Buckingham malice
BRITAIN'S 'favourite grandmother', the late Queen Mother (above), was portrayed by the BBC and the rest of the fawning media as a dear old soul, the sort of loveable lady you'd want for your own granny. But the BBC knew different.
BBC Radio 4 presenter Edward Stourton has just published his book, It's a PC World, in which he welcomes what others deride as 'political correctness'.
In his book, Stourton recalls he had just returned from an EU summit in the early 1990s when Prince Charles's granny turned to him and said:
"It will never work, you know, with all those Huns, wops and Dagos."
I wonder if the Queen Mother was on that leaked BNP membership list?


On the one road
ROAD SIGNS have the Protestant residents of a County Derry village living in fear, an Ulster Unionist councillor would have us believe.
One such inanimate but menacing metal sign, Councillor George Shiels told Magherafelt District Council last week, is causing fear and alarm among the villagers of Knockloughrim village. That sign has mysteriously since disappeared.
"They find a nameplate in Irish threatening and sinister," the UUP man said of the simple villagers before warning.
"If responsibility for roads comes back to councils after the Review of Public Administration, then Sinn Féin are set to systematically pollute our towns and villages with a plethora of bilingual direction signs leading to confusion and an increase in traffic accidents."
Not convinced?
"You only have to look at the situation in the Republic of Ireland where some of the village streets resemble Times Square." (Regrettably, Councillor Shiels neglected to name such blighted hell holes.)
And as if looking like Times Square wasn't enough of a looming horror to wee Protestant villagers cowering in their homes, George revealed in hushed tones: — "One resident – whose address I won't identify – told me she now locks her back door, something she hasn't done for years."
Sound woman. You can never be too sure what those signs would do when you're fast asleep in the dead of night. They probably take on a life of their own.


BNP witch hunt
WHILE everyone from British Ministry of Defence spooks to Bank of Ireland managers are leaving computer data files with personal details on buses, trains and in the back of taxis on their way home from the pub, someone with access to the führerbunker at British National Party HQ is literally giving it away. And what fun people are having poring over the names to see who their neighbourhood Nazis are.
The list contains the names of a former Fire Service chief and at least one ex-RUC man as well as serving British soldiers in the Six Counties. Also on the list is one self-confessed "witch". The shocking thing there is that there is only one.


The boys with the BNP stuff
ONE of the British soldiers exposed as a BNP member told the media:
"A lot of the boys joined because [the BNP] were campaigning against the IRA and wanted to get the troops out of Ireland."  As Private Eye would say: Some mistake surely. I don't think the BNP wanted the Brits out – rather they wanted more troops in to help their UDA/UFF surrogates.
A lot of "the boys" joined the BNP? How many more? Where are they now?
And why did you want to get out of Ireland but stay a soldier in the British Army? Did the IRA have you looking for a way out?