27 November 2008 Edition
The Mitchel McLaughlin Column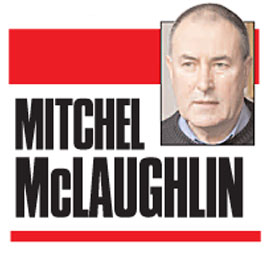 Economic crisis: Think globally but act nationally
NEW and innovative thinking is required in order to respond to the current global economic recession. There are a number of options available to the finance ministers in Dublin and Belfast, including an active consideration of opportunities for co-operation and joint action.
I would hope that departments would be tasked to fast-forward previously-approved capital projects in health, education, social housing, and infrastructural projects. In doing so, departments should specify that projects are configured to achieve maximum local economic footfall by ensuring that the scale of such projects are such to enable indigenous companies to successfully compete with the joint venture approach of multinational bidders. This approach will require that major projects are sub-divided into incremental phases and scope to facilitate the retention of skills within the Irish economy. This would create opportunities for local labour, local suppliers and ancillary services who would be the main beneficiaries of Government spend.
Other measures available that would deliver an immediate boost to the economy would be for:–

•    The respective departments to resolve to bring forward planning approvals in terms of weeks rather than months;
•    All departments to clear credit accounts with suppliers within one month of satisfactory completion of contracts;
•    Exploration licences for gas and oil to be independently re-assessed and, if possible, renegotiated on the basis of a profitable return to the Irish Exchequer.
 
As Martin Ferris TD pointed out in the Dáil a week ago, during a debate on the Gas Amendment Bill 2008, the massive oil and gas reserves off our coast could have huge economic potential if the state makes radical changes to how the sector is controlled and how the revenues from oil and natural gas reserves are exploited in the interests of the people of Ireland.
It is no coincidence that the European countries which presently are coping best with the global economic storm are those with gas and oil reserves that have been developed to the benefit of their own economic well-being.
It is imperative that the Irish Government and the Assembly Executive collectively adopt imaginative and forward-planning policies fit for purpose and on an all-Ireland basis to attract alternative employment opportunities that would help to offset the worst effects of the recession.
A good beginning would be the establishment of joint investment and job creation agencies which would eliminate counter-productive and ultimately wasteful rivalries as at present. It would also eradicate the squandering of wider opportunities to business throughout the island and generally contribute to rebuilding the economy.
The clear cost-effectiveness of this approach has long been recognised by the business community and the island economy is becoming more inter-dependent and integrated every year.
It is only common sense that co-operation on an all-Ireland basis in relation to the economy is the best approach to combat the effects of the global economic downturn.