20 November 2008 Edition
New Sinn Féin university structure pays dividends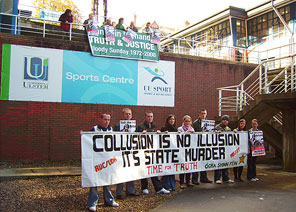 SINN FÉIN has recently implemented a transformation of the party's structures in universities across Cúige Ulaidh. This follows a summer-long 'think tank' by young Sinn Féin members who had recently passed through the party's college structures. These meetings resulted in the formation of a new University Officer Board.
Commenting on the new structures, University Officer Board member Meabh Mackel said:
"On the back of huge recent growth of Sinn Féin in universities across the North, it was decided that a new structure should be put in place in order to co-ordinate the college cumainn so that they can reach their full potential and to manage our growing membership."
MORE EFFICIENT
 Jordanstown Sinn Féin Chairperson Caolan Quinn said:
"Sinn Féin has become more organised and efficient due to the revamp in the colleges. With more co-ordination between the colleges new members receive training in their newly obtained positions.
"More successful fund-raising also means that we have been able to take our new members on educational trips. Recently we travelled to Stormont to meet with Sinn Féin MLAs and also enjoyed republican tours of Belfast and Derry. A weekend trip to Dublin has been organised for January."
"Over 500 people signed up across all campuses in the North at Freshers' Fayres and recruitment days. Sinn Féin is by far the largest party in all campuses. We hope to build upon this and grow even bigger."