20 November 2008 Edition
H-Block film in Paris festival spotlight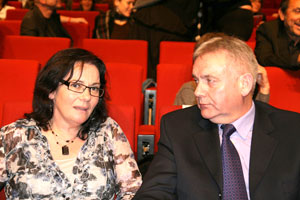 THE weekend showing of the acclaimed film Hunger at the prestigious 4 Screens European Film Festival in Paris is an indication of the powerful effect the film is having on audiences across Europe, according to Bik McFarlane, who was at the festival.
Speaking to An Phoblacht, Bik explained that Hervé Chabalier, president of the 4 Screens festival, was so moved by the film's story and impact when he watched it winning the Camera d'Or award at the Cannes Film Festival in May of this year that he included it specifically in the Paris programme.
McFarlane, along with Sinn Féin Assembly member Jennifer McCann (a former POW in Armagh), attended the Paris screening of Hunger on Saturday, 15 November, and took part in the question-and-answer session which followed the screening.
Bik McFarlane said:
"Monsieur Chabalier wanted Hunger included in the Saturday night awards ceremony even though it was not up for an award. He was so impressed by the film that he believed it should be shown in the 4 Screens European Film festival to an audience of film critics, academics and film-makers."
BOBBY SANDS
Jennifer McCann, who took part in the protest in Armagh women's prison, spoke of her experience of Bobby Sands and his community activism in Twinbrook, west Belfast, where she lives.
McCann told the Paris audience that Hunger's focus on Bobby Sands was important as it destroyed the British portrayal of republicans.
"Bobby worked tirelessly for his community. He led by example, he was inspirational within the community and his legacy lives on among the people."
Concluding, McFarlane said:
"There is no doubt that Hunger is having an impact on audiences throughout Europe. As a film it is a powerful piece of work, especially as it accurately reflects the situation within the H Blocks at that time.
"It highlights the courage and commitment of the men who died on hunger strike in a way that exposes the propaganda that the Thatcher government peddled, saying the protesting prisoners were criminals. In that regard this is a very important film."