20 November 2008 Edition
Ireland : The energy-dependent island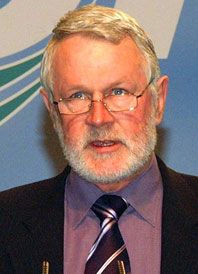 Ferris calls for Government to take lead in renewable energy investment

BY ROBBIE SMYTH

IRISH CUSTOMERS pay the highest prices for electricity in the EU. We are also one of the most dependent states on imported energy resources and therefore the most vulnerable to international energy crises and price swings. These were the findings of two key reports on Ireland's energy industry released in the same week as the latest applications by the ESB and Bord Gáis for another round of price increases were considered by Commission on Energy Regulation.
A report by Sustainable Energy Ireland found that electricity in the 26 Counties costs the consumer 20 per cent over the EU average and that some business customers are paying up to 52 per cent above the EU average for this sector.
Gas prices paid by Irish households are 17 per cent above the EU average, while industrial consumers in this sector pay between 9 and 13 per cent more than the EU average.
Sustainable Energy Ireland puts the reason for these high prices on Ireland's dependence on imported fossil fuels: 88 per cent of 26-County electricity is generated from fossil fuels and 60 per cent of this is made of oil and gas power, which is highly volatile commodity in price terms on international energy markets.
In the Six Counties, there is an even greater energy dependency on imported fuels, where 94 per cent of the region's energy is generated by three fossil fuel power stations. This year, there are 19 wind farms in the North offering 240 megawatts of power.
The second report on Ireland's energy vulnerability came from the EU Commission. The 26 Counties is one of eight EU states that gets all of its gas from one supplier – the Russian Federation.
For now it looks like Irish customers will be paying even more for their energy needs. The ESB has requested a 5.6 per cent price increase while Bord Gáis is looking for an extra 3.9 per cent. The ESB has already raised its prices this year by 17.5 per cent while gas prices rose by 20 per cent.
If granted, the average 26-County electricity bill would rise to €164 a month, leaving consumers paying an average of €30 a month more since January for electricity.
It is not all bad news on the energy front as Ireland's growing renewable energy sector continues to grow and, on 20 October, a new benchmark was set for electricity generated from wind power in the 26 Counties.
Sustainable Energy Ireland estimates that the 26 Counties' use of renewable energy doubled between 2003 and 2007 with an annual average growth of 19 per cent in those years. In 2007, 9 per cent of the state's electricity came from renewable resources; the 2008 figure will be higher still.
Last week, EirGrid launched their Grid25 strategy that seeks to double the capacity of the distribution network by 2025 to facilitate the growth of renewable energy resources on the Irish power grid.
Sinn Féin TD and Energy spokesperson Martin Ferris welcomed the new peak for energy generated from wind power and the general thrust of the Grid25 strategy but stresses the huge gulf in what needs to be done in terms of renewable energy resources and actual Government policy.