20 November 2008 Edition
Ballymurphy internment massacre families meet Dermot Ahern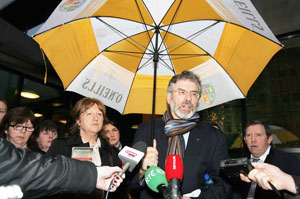 FAMILIES from the Ballymurphy Massacre Committee, accompanied by representatives of Relatives for Justice and Sinn Féin West Belfast MP Gerry Adams MLA, met Foreign Affairs Minister Dermot Ahern in Belfast on Monday.
The meeting was requested by the Sinn Féin MP to provide the families with an opportunity to ask the Irish Government for its support for an independent investigation into the full circumstances of these deaths and an acknowledgement of the innocence of all those killed and of the injustice suffered by the families.
Speaking after the meeting, Adams said the families made a compelling appeal for assistance and support:
"In the three days following the introduction of internment in August 1971, 11 people were killed by the British Army's Parachute Regiment in the Ballymurphy area.
"The families of those killed deserve an apology from the British Government and the truth about the circumstances surrounding the massacre of their loved ones."
NO ONE HELD TO ACCOUNT
Gerry Adams continued:
"No one from the British Army has ever been held to account for the Ballymurphy massacre.
"No one from the British Government has ever provided the truth to the 51 children left without a parent by the British Army's actions.
"There has been no apology and the British Government has never retracted the lies told by the British Army and published by the media about the 11 people killed.
"All of these families deserve the full support and encouragement of the community, and of the Irish Government, in their efforts to secure an independent international investigation in these deaths, and to have the British Government acknowledge the truth surrounding the shooting dead of their loved ones."