20 November 2008 Edition
Sinn Féin TD Aengus Ó Snodaigh visits 'the biggest concentration camp in the world' - the Gaza Strip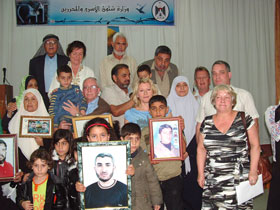 Eyewitness in Gaza
FOR the third time in recent months, the Israeli blockade of Gaza was broken a fortnight ago by the Free Gaza movement's vessel, SS Dignity. On board this time were 11 parliamentarians, including Sinn Féin TD Aengus Ó Snodaigh. Having been informed by the Egyptian authorities that they would be refused entry through the Rafah border crossing between Egypt and Palestine, the original delegation, though reduced from 53 to 11 parliamentarians, put to sea from Larnaca in Cyprus.
Israel occupied the Gaza Strip from 1967-2005 and in 2005 they withdrew their military personnel and settlers. They claimed this amounted to "disengagement" aimed at allowing the Palestinian Authority to 'administer' Gaza. In fact, Israel controls the strip's airspace and territorial water as well as Israel's border with Gaza. Egypt, which occupied Gaza from 1948 to 1967, controls the southern border between the Gaza Strip and the Sinai Desert, but in effect Israel decides when and if the borders around Gaza are opened, which is rarely.
The prolonged siege is part of a campaign by Israeli forces to divide the Palestinian state, to make it economically unviable and to isolate the Palestinian government elected in 2006.

CAMPAIGN TO END THE SIEGE
This month's trip was organised by the European Campaign to End the Siege of Gaza and included Chris Andrews TD, three members of the Scottish Assembly, a Welsh Assembly member, two from the English House of Lords, a Westminster Labour MP, and former Foreign Minister Claire Short, along with Swiss and Italian members of parliament.
Fearful of adverse publicity if they intercepted the ship (there were also journalists on board), the Israeli Navy shadowed Ó Snodaigh and his colleagues. The ship carried vital medical supplies needed for hospitals in Gaza.
A huge welcome greeted the delegation when they made land in Gaza on Friday morning, with fishing boats crammed with people escorting the SS Dignity the last few miles.
Later that day, the delegation addressed the Palestinian Legislative Council, 38 members of whom are in Israeli jails and which cannot meet as a full parliament, due to the siege, because half of its membership is in the West Bank. Pictures of the jailed parliamentarians mark their designated places in council chamber.
The following day, Saturday, 8 November, Aengus Ó Snodaigh and the delegation met with the Prime Minister of the Palestinian National Authority, Ismail Haniyeh, who briefed them on the current political situation. He called for the International community to put pressure on Israel to lift the siege.
The rest of the weekend was spent visiting refugee camps, food distribution centres, UN-run schools, visiting stalled water-treatment and flood works, the only power station in Gaza, touring hospitals, the Rafah crossing, meeting with civic society, the families of POWs and the fishing community as well as farmers and seeing the results of Israel's bombing campaign before they withdrew two years ago.

HEAVY TOLL
Ó Snodaigh was disturbed by what he saw in Gaza.
"You can't help feeling angry the more you see of the place. It is quite clear just from looking around the place that Israel's blockade is taking a heavy toll on the people of Gaza.
"Since arriving here I have visited two hospitals including Al Nasr Children's Hospital. Both hospitals are under huge pressure due to a lack of supplies and equipment or even spare parts to repair their machines. The equipment is dilapidated and much of it is basically held together from bits and pieces cannibalised from older equipment. They are forced to send patients to Egypt or Israel for treatment but the sick often languish at the border crossing waiting to be let through but to no avail and have to return home to try again next day or suffer without the treatment. The most modern part of the Al Shifa Hospital lies uncompleted due to supplies being held at the Israeli border and no building material being allowed across."
When the delegation left on Monday, it was with sadness, but a determination to highlight and campaign to end the siege of Gaza and the denial of Palestinian national rights that they left with. The SS Dignity had extra passengers on its 15-hour outward journey: sick patients needing vital operations and several students who couldn't get back to Europe to continue their university courses interrupted by the blockade. Aengus Ó Snodaigh said afterwards that:
"It is quite clear that Israel's blockade of Gaza is the cause of a major humanitarian crisis and must be lifted. The people here are facing a major food, fuel and medical shortage and are in dire need of help. The suspension of the EU's preferential trade agreement with Israel and a boycott of Israeli goods is what must happen if Israel doesn't lift the siege.               
"There's a million and a half people living in Gaza – no wonder they call it the biggest concentration camp in the world. I would encourage people to donate to the Free Gaza movement to help fund other siege-breaking boat journeys with medical and other supplies getting through to the Palestinian people."
GAZA AIRPORT: The Israeli blockade prevents rebuilding of essential infrastructure 
Balfour Declaration – The Irish link
THE 91st Anniversary of the Balfour Declaration – which led to the setting up of the Israeli state  – was marked at the British Embassy on 1 November by a crowd of a hundred activists.
A rally chaired by Marie Crawley of the Irish Palestinian Solidarity Committee heard British Labour MP Jeremy Corbyn and Aengus Ó Snodaigh TD.
Aengus Ó Snodaigh highlighted Arthur Balfour's role in Ireland at the head of the British imperialist system in the late 19th Century and linked the oppressive measures tried and tested in Ireland with what happened in Palestine, and what continues to this day.
Afterwards, the crowd marched to the Mount Herbert Hotel where a public meeting was addressed by Aengus and Jeremy again. Anaheed Al-Hardan of the Ireland Palestine Solidarity Campaign also spoke, highlighting the ongoing plight of the Palestinian refugees from 1948 until today.