13 November 2008 Edition
UDA statement 'disingenuous'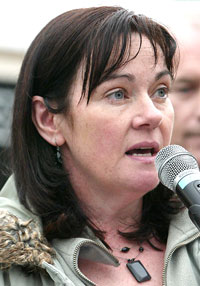 SINN FÉIN West Belfast MLA Jennifer McCann has said that a recent statement from the UDA carried this week is "disingenuous".
In the statement the unionist paramilitary group they said it will defend "Britishness" against what it claimed was a threat by republicans.
In a statement released to Belfast's News Letter newspaper to coincide with Armistice Day, the group accused Sinn Féin of propaganda across the North aimed at "challenging our very [British] existence at every level"
It also accused republicans of "racism, ignorance and bigotry", citing the demonstration at the recent British army homecoming parade in Belfast.
Commenting on the statement Sinn Féin's Jennifer McCann said that what the UDA statement "highlights is the fact that they, and indeed many other unionists, have not even begun to understand where nationalists and republicans come from in relation to the RIR and British Army. The fact that these remarks were made at a poppy day event hosted by a loyalist organisation speaks volumes.
"Republicans have worked hard to build relationships particularly in Belfast and around the interfaces. The UDA are not totally engaged in this work. The UDA would better contribute by engaging fully with the structures that exist to deal with these issues.
"There will obviously be a concern about what the UDA really mean. They are still an armed organisation.
"Rather than issuing pious statements the UDA would be better dealing with criminality, including drug dealing and the issue of their weapons."