13 November 2008 Edition
The Fifth Column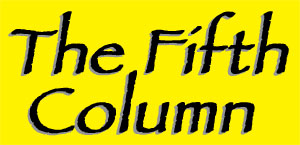 Mind your language
ISN'T it curious that the unionist elements most at home ridiculing the Irish language were among those at the Royal Irish Regiment parade waving flags bearing the regimental motto, "Clear the Way" in Irish: "Faugh a Ballagh!"


SDLP welcome mat for RIR
THE SDLP mayor of Derry, Gerard Diver, cleared the way and laid out the welcome mat in his parlour at the Guildhall on Friday night when he hosted a reception for members of the Royal Irish Regiment, the unit that incorporates the hated Ulster Defence Regiment.
The RIR's full title is the Royal Irish Regiment (27th (Inniskilling) 83rd and 87th and Ulster Defence Regiment).
The event was said to have been "low key" and advance details withheld "for security reasons". Or, more likely, to save the SDLP's embarrassment and any collateral damage.


UDA chief's foreign affair
THE UDA used to be opposed to all things Irish but UDA chief Jackie McDonald had no problem applying for an Irish passport to get him in to the USA more easily than his British one.
Jackie wanted to attend a Glasgow Rangers FC gig in Texas six years ago but was told by pals that he might have a little trouble "with my background" and a British passport. He confesses that President McAleese's husband, Martin, helped fast-track his Irish passport application through Dublin's Department of Foreign Affairs.
"Someone said I should get an Irish one because I would have less bother for a number of reasons."
In any event, Jackie fell ill and didn't get to use his passport (in Irish and English, of course) so we don't know what sort of support he would have got for formally taking out his Irish citizenship in front of the hardcore Gers' fans. That would have brought more than the house down.
Jackie, nevertheless, is unabashed about his 'foreign' excursion.
"I have been taking some stick but it doesn't affect my loyalism. I didn't think twice about it. There are lots of my friends who have Irish passports."
And fair play to them all, Jackie, because republicans have always treated you as Irish, although some of your old friends haven't been so keen to agree.


Go-Go Gogarty stays
GREEN PARTY TD  Paul Gogarty has claimed (not for the first time) that he was on the verge of quitting John Gormley's jolly green giants over the Budget cuts in education.
"Of course, [resigning] crosses your mind because there's a lot of pressure," Go-Go Gogarty complained. "You get a lot of e-mails saying 'Do the decent thing', 'resign', 'show some guts' and 'be principled'."
But talk of principles and guts don't rattle Go-Go
"I've shown more guts by sticking with it," he reckons.
Even though he acknowledges all this Hokey Cokey dancing – 'Paul Gogarty's in, Paul Gogarty's out, Paul Gogarty's back in, and he shakes it all about' – damages the Green Party.
"We've been painted as a party that talks the talk but doesn't walk the walk."
Very much like you, Paul, eh?


RTÉ not biased enough
GOVERNMENT TD Noel Treacy is annoyed about RTÉ "bias" – that it isn't showing any bias towards the Government.
"As far as I am concerned," the Galway East TD harrumphs, "RTÉ is a left-wing organisation that has not committed itself to promoting policies laid down by Government or parliament."
At the same time, we're treated to Fianna Fáil Senator Jim Walsh laying into Ballydung bad boys Podge & Rodge while Defence Minister Willie 'Where's Da War?' O'Dea was blasting RTÉ insiders for not pointing out suspected Sinn Féin supporters lurking in the audience on Questions & Answers, waiting to ambush the Little Corporal.
I bet Fianna Fáil long for the days of state censorship and Section 31 of the Broadcasting Act. Where is Seán Doherty when they need him?


PD spirit guide
ONE RTÉ regular commentator on Marian Finucane's weekend radio shows who is just the sort of chap that Fianna Fáil likes is Fr Brendan Purcell (he toes the reactionary Establishment line).
On Sunday, as the sun shone with the news that the Progressive Democrats will be  politically liquidating themselves, Fr B (who is a philosophy professor at UCD and confesses to loving Sarah Palin, by the way) opined that political activism is something to be cherished and he urged all the PDs to join some other party "except Sinn Féin".
That redundant PDs could comfortably find a political home in the other parties in the philosophy professor's view says a lot about the PDs and the other parties. That a man who purports to have a line to God and is entrusted with educating impressionable teenagers at UCD even thinks PDs might ever consider joining Sinn Féin makes one wonder if he should ever be let out on his own without a state registered nurse minding him.
And, besides, Fr B, I don't think Mary Harney, Des O'Malley and Michael McDowell will be making enquiries to Sinn Féin any time soon about joining the Ernie O'Malley Cumann. But thanks for warning them off anyway.


Their day has gone
MARY HARNEY, speaking on RTÉ on Sunday after the wake for her Progressive Democrats, said that the PDs realised that "our day has come".
Indeed it has, Mary. I'm so happy I could cry.
Tiocfaidh ár lá.