13 November 2008 Edition
'Goals of Irish freedom and independence will be won'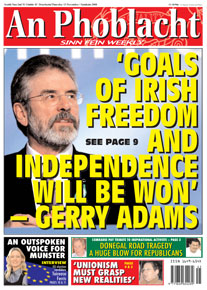 Sinn Féin President Gerry Adams is in the United States on a brief four-day visit.
Speaking in New York at the party's annual major fundraiser in the city, Gerry Adams spoke of the difficulties in the current situation in the North and called on Irish Americans to join with Sinn Féin in increasing efforts to advance Irish unity and independence.
Adams calls on Irish Americans to join efforts to advance Irish unity
In his opening remarks Adams congratulated US President-elect Barack Obama and Vice President-elect Joe Biden on their recent election victories.
Commenting on the current situation in the North Gerry Adams said:
"Once unionism dominated life in the North. That has all changed, largely as a result of the efforts of Sinn Féin, but also with the help of you in this room and many others across the United States.
Today, if political unionism wants to exercise power it can only do so if it is prepared to work in partnership with republicans and within the all Ireland political architecture of the Good Friday and St. Andrews Agreements.
 "Some elements of unionism continue to resist change. But for the leadership of unionism today the question is very simple. Is it ready to move forward with the rest of us? Everything hinges on the answer to this simple question.
 Partnership, equality and working together is the only way forward for our people. And when I say our people, I mean all our people, and that includes the unionists. It is my strong view that decent, pragmatic unionists will come to terms with the new dispensation. And why wouldn't they?
There was a time when:
•    Unionism controlled the parliament
•    Unionism controlled the cabinet
•    Unionism controlled the police force
•    Unionism controlled the justice system
•    Unionism dominated business and controlled local government
•    Unionism dictated housing policy and allocation

But that time has passed. Everyone knows this. Some may wish it was not the case and certainly their tactics are about delaying and attempting to dilute necessary change. But this can only work in the short term. Irish Republicans are long termers!
By working closely with the unionists; by being patient and strategic; by recognising unionist concerns and fears on the one hand, and challenging bigotry and prejudice on the other; it is possible to make progress.
The key to this is confidence in our own ability, in our analysis and in our republican politics. There are many challenges. And many frustrations as well. Few human beings of my acquaintance are as petty and mean spirited and negative as those in the Afrikaner wing of unionism.

But if we are truly about nation building; and that is what is Sinn Féin is about, then we cannot allow ourselves to be distracted or diverted by negative and reactionary elements. We have to reach over their heads to working families; to the disadvantaged and to all those who want a better way for themselves and for their children."
Gerry Adams pointed to the changed political scene in the US following the recent elections and the arrival of a new administration in the White House. He said:
"There is also a new House of Representatives and Senate in Washington, as well as changes in legislatures across the country.
"There are many old friends, who have been very supportive over the years and who have been returned to office. There are also many new names and new faces who have been elected for the first time.
"Sinn Féin's task in the time ahead is to engage with all of your political leaders. Irish America, which has always played a pivotal role also has a big job of work ahead of it. Irish America now has the task of engaging with the new Federal and state and local administrations and making sure that the issue of peace and justice and freedom in Ireland are high on their agenda.
"Irish America and Sinn Féin now have to work together as never before to maximise this opportunity and to build on the solid progress of achievement that has been made. Many of those now in elected office are open to our efforts.
"So, we have a lot of work ahead of us. This includes bedding down the political institutons; making progress on outstanding issues; fulfilling the promise of the Good Friday Agreement.
It's about making politics work. It's about delivering for citizens on all the issues affecting them in their daily lives.
It's also about advancing the democratic goal of Irish unity. The vast majority of citizens in Ireland, republicans and nationalist, support this objective. Our task is to motivate people in Ireland and elsewhere, including the USA, to actively work to achieve a United Ireland.
We must also convince them that such an effort can and will succeed.
Toward this end I established a special committee earlier this year to produce a strategy to achieve this – Larry Downes is a part of that effort.
In Ireland Sinn Féin has begun a dialogue with a range of opinion about how to bring about the reality of a united Ireland.
The first public expression of this will be in the Mansion House in Dublin in January, arranged to coincide with the 90th anniversary of the meeting of the First Dáil Éireann, the all-Ireland government elected by all of Ireland in 1918.
Sinn Féin intends to expand this dialogue throughout the world and certainly here in the USA. We know that this will need people from different parties and none, who want a United Ireland, finding ways in which we can work together.
"This will require the creation of broad based campaigning organisations by those prepared to work to achieve the goal of a United Ireland. The very successful McBride Principles campaign here in the USA  provides one organisational model which should be looked at.
 "A vital part of this endeavour must be building support internationally. And crucial to this is Irish America. Sinn Féin seeks to energise and to harness the political strength of the millions of people across the globe and of the 40 million here in the USA, who can proudly trace their lineage back to Ireland.
 "In this nation there already exist cultural, sporting and civic society organisations, as well as business and trade union organisations, who support Irish freedom. So, in any strategy to achieve a United Ireland we need the Irish diaspora, and we want to inspire its political strength in support of our goals.
 "None of this will happen by chance. Irish unity makes sense, politically and economically and historically but it won't happen of its own volition. We have to make it happen. We need organisation. We need hard work and strategies.
"The road map is clear. Sinn Féin – Irish republicanism – is looking forward. Irish republicans have a vision of a new future for Ireland, a better future for Ireland and we have the spirit and confidence to work with others to achieve this. We are living through a time of great hope, and great opportunity and with the help of our friends here in the USA the goals of Irish freedom and independence will be won."