6 November 2008 Edition
Commandant Mick Fitzgerald honoured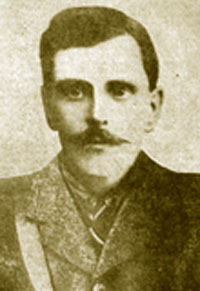 During a recent visit to Fermoy, County Cork Sinn Féin Vice-President Pat Doherty laid a wreath at the grave of Commandant Mick Fitzgerald OC First Battalion, Cork Number 2 Brigade, IRA, who died in Cork Jail on 17 October  1920 after 67 days on hunger strike.
Pat likened Mick to the hunger strikers of 1981 and spoke of the duty that now falls to the present generation to continue their struggle until our ultimate aim of a free democratic 32-County Republic is achieved.  Also buried in the Republican Plot in Fermoy is General Liam Lynch, who was Chief of Staff of the IRA when he was shot dead by Free State troops on the Knockmealdown Mountains on 12 April 1923.  His last wish was to be buried with his great friend and comrade, Mick Fitzgerald.
Pat spoke of the great honour it was for him to stand on such hallowed ground to pay homage to such great men to whom we owe so much.
Pat Doherty laying a wreath at the grave with Councillor Seamus Coleman (Inset) Commandant Mick Fitzgerald