6 November 2008 Edition
Wishful thinking at DUP conference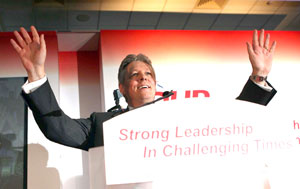 BY LAURA FRIEL
AROUND 600 delegates packed a conference hall in Armagh City Hotel to hear Peter Robinson deliver his first conference speech as leader of the Democratic Unionist Party. Robinson's first message to delegates was that there would be no turning back.
"We will not solve the problems of tomorrow by re-fighting the battles of yesterday," warned Robinson.
But outside a determination to consolidate his new position as party leader, turning back appears to be precisely what Robinson and the rest of the post-Paisley leadership are hoping to do.
Of course, there have been changes. The removal of Ian Paisley has heralded a change in style. There was none of the religious rhetoric that used to accompany the leader's address. Peter Robinson is a politician, not a preacher, and one that is astute enough to delegate the agenda of Christian fundamentalism to his wife.
And even Iris's message was coded. No reiteration of her views of homosexuality as "an abomination", only a plea for "Christian truth" accompanied by the paternalistic indulgence of an affectionate husband.
In other words, the Christian Right remains part of the DUP family but is no longer head of the household. Robinson also demoted the Ulster Unionist Party and its former preferred option of direct rule.
With the DUP in ascendancy there will be no return to direct rule for unionism. A return to direct rule would be "sheer madness" for unionism, said Robinson.
Under British direct rule, unionism had been powerless and irrelevant and now direct rule "would mean greater Dublin influence, interference and involvement in our affairs," said Robinson.
And there would be no return to power for the Ulster Unionist Party. The UUP had presided over decades of unionist compliance and then compounded their weakness by giving concessions to republicans.
"There was a time when unionism under another party's leadership had lost its confidence and lost its way," said the new leader of the DUP.
Worse still, under the stewardship of the UUP, "republicans were receiving daily concessions... dictating the political agenda... always triumphant in negotiations... and on a trajectory to achieving a united Ireland".  
In other words, the UUP had grievously sinned against the unionist family but redemption lay in accepting their own wrongdoing and the enlightened leadership of the DUP.
"I have no doubt that, in terms of advancing unionist ideals, more can be gained by greater co-operation between ourselves and the Ulster Unionist Party," Peter Robinson said.
Curiously, while accusing Sinn Féin of being "trapped in  a time warp", for Robinson the realisation of unionist 'ideals' remains intrinsically linked to the dream of a return to unionist domination.
For the DUP the mechanisms of power-sharing enshrined within the institutions are not fundamental to the Peace Process but "unfinished business" to be dismantled in favour of a return to unionist control.
"We have unfinished business in reforming the system of government here away from mandatory coalition," said Robinson ('mandatory coalition' is the DUP's code for power-sharing).
Unionists are a minority within the island of Ireland. They are a minority within the nine counties of Ulster. Even within the artificially-created, six-county statelet (specifically designed to manufacture a unionist majority), unionists only hold a majority within two counties: Antrim and Down. But, somehow, Robinson still imagines that entitles the DUP to 'majority' rule.
And it's here that the fundamental flaw of Robinson's leadership is exposed.
"After 40 years of painful and bloody conflict," he said, "this party has been given the opportunity to build a better society for everyone.
"I want to see unionism confident and generous and one that reaches out to those from all parts of the community," he claimed.
But such aspirations are in direct conflict with the DUP's determination to cast everything in their own image. Everyone, be it gays or Gaeilgeoirí, who falls outside the unionist paradigm must submit, to the will of God, to the will of Ulster, to the DUP's reassertion of 'majority' rule.
It isn't going to work. It's a recipe for political gridlock, and that's exactly where it has led us all.
It's a crisis of the DUP's own making but Peter Robinson was not prepared to take any responsibility. Instead, he blamed republicans.
"The paralysis of the Executive by Sinn Féin is unforgivable," said Robinson. Unable to resist the opportunity to be offensive, Robinson declared: "It's time to tell Sinn Féin to get back to work."
While Robinson confined his derogatory comments to the notion that all Taigs are work-shy, his deputy leader, Nigel Dodds, accused Sinn Féin of "acting like spoilt children".
Meanwhile, Ian Paisley Jnr entertained the DUP crowd by telling them that he would like to see fellow Policing Board member Martina Anderson "Tasered".
Describing the Sinn Féin MLA as "a ghastly woman", Paisley Jnr said "there are quite a few people who would like to see Martina Anderson Tasered."
While 'no surrender' as a tactic has served the DUP well in its scramble to the top of the unionist pile, having gained the summit, it is proving inadequate to the task.
The founder and former leader of the Democratic Unionist Party, Ian Paisley Snr, had chosen not to attend the conference. Instead, he addressed delegates during a pre-conference dinner at which he warned that while "principles are for maintaining, democracy is about debate and negotiation".
A timely reminder, perhaps, to his successor, Peter Robinson, whose stewardship of the DUP to date has failed to grasp the difference between political ambition and political leadership.