30 October 2008 Edition
HSE confirms death sentence for Monaghan General Hospital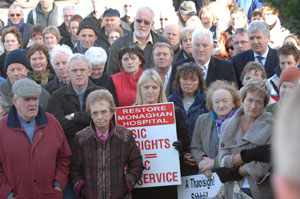 The Health Service Executive on 23 October informed 130 staff that they will no longer be employed in Monaghan General Hospital and are to be redeployed. The HSE has confirmed that the final removal of all acute medical services from Monaghan General Hospital will take place in late January/early February 2009.
Sinn Féin Health & Children spokesperson and Cavan-Monaghan TD Caoimhghín Ó Caoláin secured a debate on this issue on the adjournment of the Dáil on 23 October and, with Fine Gael TD Seymour Crawford, led a protest of elected representatives and hundreds of citizens outside the hospital on Friday.
Ó Caoláin said:
"The HSE has confirmed the death sentence for Monaghan General Hospital. All acute medical services are to go, along with the 130 staff who provide them. A hospital which has provided care to generations of people will be no more.
"Health Minister Mary Harney, her Fianna Fáil colleagues in Government, the HSE and, above all, the Fianna Fáil Oireachtas members for Cavan-Monaghan should hang their heads in shame. They have betrayed the people and allowed vital services to be taken away with grave consequences for the health and the very lives of the people of County Monaghan.
"This will be a devastating blow to the people of County Monaghan and a major reduction in overall hospital services in the entire North East region. It is the culmination of years of attrition by the Government and the HSE during which time service after service was taken from the hospital.
"The HSE has stated that once a medical assessment unit opens in Cavan General Hospital in late November/early December the transfer of acute medical services from Monaghan to Cavan will happen within two months.
"There are currently 3,000 acute medical admissions to Monaghan General Hospital per annum. By the end of January/start of February 2009, if the HSE's plan goes ahead, this service will have to be provided by Cavan General Hospital. And not a single additional acute hospital bed is to be provided in Cavan.
"I accuse Fianna Fáil Deputies Brendan Smith, Rory O'Hanlon and Margaret Conlon and Senators Diarmuid Wilson and Francis O'Brien of betraying the people of County Monaghan and County Cavan whom they were elected to represent. Thanks to these Fianna Fáil time-servers who failed to confront their Government on a life and death issue, healthcare in County Monaghan is to be devastated while Cavan General Hospital will be forced to cope with a huge additional workload of patients without the additional resources required."
Nenagh
In Nenagh County Tipperary Sinn Féin Councillor Seamus Morris said the closure of Monaghan as a 24 hour acute hospital "should send a warning to all of us here in North Tipperary that Nenagh Hospital is next in line". He said:
"I have been informed that ambulances have been told to by-pass Nenagh Hospital with critically injured patients and bring them directly to Limerick Regional Hospital, breaking the one-hour golden rule which is sacrosanct in saving lives.  It is up to the people of North Tipperary to demand the retention of Nenagh General Hospital's 24-hour acute services as an absolute demand for a vote."