30 October 2008 Edition
Danny Morrison's conviction quashed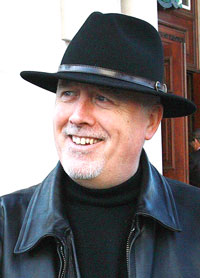 BY LAURA FRIEL
DANNY MORRISON, Sinn Féin's former Director of Publicity, is demanding to be told why his conviction for false imprisonment over the IRA questioning of informer Sandy Lynch in 1990 has been quashed by the Court of Appeal.
Describing the 1991 conviction of himself and others as "a set-up from the beginning", Morrison said those wrongly convicted were entitled to know why and how.
"We were convicted in an open court amid a fanfare of bad publicity so I think it's only fair that the same consideration is given to the reasons why we were wrongly convicted," said Morrison.
In 1991, Danny Morrison was sentenced to eight years' imprisonment after he was convicted in relation to the IRA questioning of an informer, Sandy Lynch. Seven others were also convicted.
Morrison said:
"British Intelligence knew all along what was happening because Sandy Lynch's handlers told him three days earlier that he was going to be questioned by the IRA about being an informer."
Morrison said he had been lured into the house where Lynch was being held by Freddie Scappaticci. Morrison was intending to organise a public press conference at which Lynch would admit being an informer.
The house had been under RUC surveillance but no attempt had been made to rescue Lynch until Morrison arrived and after Scappaticci had left. Scappaticci was later exposed by the media as a British agent. "The whole thing was a set-up from the beginning," said Morrison.
Earlier this year, the Criminal Cases Review Commission, which investigates miscarriages of justice, referred the case back to the Court of Appeal.
The Public Prosecution Service (PPS) said it would not contest the appeals. Last week, the Court of Appeal officially quashed the convictions of Morrison and seven co-accused.
NO EXPLANATION
In court, presiding Chief Judge Brian Kerr took less than a minute to quash all eight convictions describing them as unsafe but offered no explanation because of a confidentiality clause.
Delivering the decision, the judge said the Court of Appeal had concluded that the convictions "cannot be regarded as safe and they must be quashed".
Kerr went on to say that there was "nothing in the papers which intrinsically militates against the delivery of an open judgement detailing the reasons for our decision".
But a barrister acting for the PPS said he would oppose any attempt to make the Review Commission's reasons public.
A hearing is set to take place in three weeks' time.
Commenting after his acquittal, Danny Morrison said he welcomed the fact that the judges were prepared to state the reasons behind the decision to quash the convictions.