30 October 2008 Edition
Greens help Fianna Fáil to wield the knife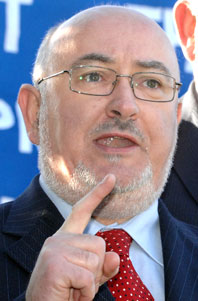 Despite growing protests against the Budget education cuts with more to come in the weeks and months ahead, the Green Party is fully backing the cuts and remains firmly in place in their Coalition with Fianna Fáil and the soon-to-be-extinct PDs.
The Greens were embarrassed into public criticism of the over-70s medical card cut after the resignation of Joe Behan TD from Fianna Fáil. Before that they had kept their mouths shut, having voted for the cuts in the Cabinet.
This week the Greens staged a meeting between their councillors and TDs in an effort to rescue their public image. It was an exercise in letting off steam and as soon as it was over the Green Ministers were out batting for the Government.
On Wednesday the Greens helped to vote down a Dáil motion calling for a reversal of the education cuts. Speaking in the debate, Sinn Féin Dáil leader Caoimhghín Ó Caoláin said:
"Despite promising that education would be protected from frontline cuts this Government have introduced dozens of cuts that will have a devastating impact on children, parents and teachers.
"Primary school funding has seen an attack like no other with increases in class sizes, caps on language support teachers at two per school, abolition of equipment and resource grants, cuts to the school buildings project and deferral of the EPSEN (Education for Persons with Special Educational Needs) Act.
"So too have our secondary schools with cuts in support for pupils from disadvantaged areas, cuts in investment in information technology, increases in school transport costs, abolition of grants towards the Junior Certificate Schools Programme, Leaving Certificate Applied and transition year programmes to name but a few.
"Attacks on the education sector have also extended as far as third level with an increase in the college registration fee from €900 to €1,500, no provision for increases in student maintenance grants, deferral of planned 2009 increases in medical education places and cuts in adult education grants.
"It is quite clear that the Government has not taken any measures to ease the crisis in education and instead has set about a course of reckless cuts which look set to cripple the entire sector.
"The Programme for Government gave commitments to decrease the pupil teacher ratio in primary schools. Everyone knew that the Government had moved away from this commitment. However nobody could have predicted the decision to completely abandon it and increase the class sizes from 27 to 28 resulting in many job losses and detrimental effects on the quality of education. Our classrooms are already overcrowded; these measures will make them the largest in Europe.
"The current primary school curriculum with its emphasis on group work and differentiation to suit different learning styles and abilities cannot be delivered in classes of more than thirty. The measures will result in many classes larger than this.
"It will dramatically affect the ability of the system to address learning difficulties and will affect future literacy levels, levels of maths, science and other subjects that we all accept are critical objectives for the future of our society."
"Every class in our school will be more crowded next year. We will lose one language support teacher, which means less help for every child. From 1st January there will be no substitute cover for teachers on uncertified sick leave – the children in these classes will be divided amongst other, already overcrowded classrooms. All equipment and grants for support teachers working with special needs children are abolished. Our library book grant is gone. The extra capitation provided for traveller children is gone. The school book grant for needy families is gone". 

– Letter from teacher to TDs

Widespread protests against the Budget cuts
Sinn Féin held protests at the constituency offices of Government ministers and junior ministers around the country last weekend as part of the campaign to reverse the Fianna Fáil/PD/Green Coalition's savage budget cuts.
Speaking ahead of Wednesday evening's demonstration organised by the National Alliance for Primary Education Sinn Féin Education spokesperson Senator Pearse Doherty called on the Government to reverse the dozens of cuts to education. The Donegal Senator said "Fianna Fáil has completely abandoned its commitment to reduce class sizes by 2010. Plans to increase class sizes if implemented will result in up to 1,200 primary school teachers being let go and the further overcrowding of classrooms. Our education system is in disarray and rather than come up with a plan in Budget '09 to reverse this situation the government is intent on deepening the crisis.
"Shame on them. However the government does not have public support for their budget. Public anger around the medical card and class sizes is palpable and warranted. The campaign to reverse the government's totally unjust budget cuts is gathering momentum and if there is sufficient public pressure frontline health and education services can be protected."

Donegal
Speaking in advance of a protest at the office of Mary Coughlan in  Donegal Town on Saturday Senator Doherty condemned the Government's targeting of the vulnerable of society saying:
"Everyone knows that the economy is in a very difficult situation and that the shortfall in public finances has to be addressed urgently. But instead of targeting working families and those most vulnerable the government should have asked those who can better afford to do so to pay a little more.  They should also have brought forward a job creation strategy to get as many people as possible back into the workforce, with the aim of increasing revenue so as to avoid further cuts, and lessening the pressure on the social welfare system.
 
"The government does not have public support for their budget. Public anger around the medical card and class size measures is palpable and warranted. The campaign to reverse the government's totally unjust budget cuts is gathering momentum and if there is sufficient public pressure frontline health and education services can be protected.
"The government has choices. They could have raised up to €1billion by making all discretionary tax relief schemes available only at the standard rate.  They could have raised €334million by getting rid of the PRSI ceiling, something supported by government departments.  They could have ended tax breaks for private hospitals. They could have accessed the National Pension Reserve Fund for key infrastructure projects.
"It is in the interests of everyone in the country that public finances are put in order and the economy turns the corner but that won't happen through short-sighted decisions that could have serious consequences long into the future. Instead of adopting a fingers crossed approach the government needs to bring forward a serious economic strategy that shows how the economy is going to grow this year, next year and into the future."

Dublin
Dublin MEP Mary Lou McDonald was among Sinn Féin activists who held a protest outside Finance Minister Brian Lenihan's Constituency Office in Castleknock on Saturday. She criticised the Government's decision to increase class sizes and urged it to reverse the decision:

"The fact is that when it came to the hard choices Fianna Fáil and the Green Party thought that the easiest targets would be pensioners, children and working families. There were few hard choices for those at the top end of the scale.
"Earlier this week the Government was forced to back down some of the way. It is still not enough – universal access to the medical card should be restored to all over 70s and the income levy should only be applied to income earned above €38,000.
"The senior citizens showed that people power works. Now we need to keep up the pressure and fight the many other savage cuts.
"Opposition to the cuts in the education sector is now gathering a head of steam. The Government must re-look at the decision to increase class sizes. This move will have a detrimental impact on the education of our children and will result in Ireland having the largest class sizes in the EU. It is completely unnecessary.
"I would urge the Taoiseach, the Minister for Finance and the Minister for Education to look at this issue with the best interests of our children paramount in their minds. The decision to increase class sizes was a mistake and they must maturely accept this and reverse this attack on children's education."
Sinn Féin representative for Lucan and Palmerstown Robert Ballesty and members of Dublin Mid West Sinn Féin held a protest on Saturday outside the constituency offices of Green Party TD and Chair of the Education and Science Committee in the Oireachtas, Paul Gogarty. Robert Ballesty said:
"I am calling on Paul Gogarty to ensure that funding is made available to Gaelscoil Eiscir Riada in Lucan which has been officially recognised as a school and given a site on which to build but there is still no sign of funding to build a permanent school.
 "Fianna Fáil and the Green Party thought that the easy targets for budget 2009 would be pensioners, children and working families. The senior citizens who protested this week showed that people power works. They have forced a government climb-down."
 
Cork
Despite the bitter cold and threatened rain, around 150 people of all ages and backgrounds marched against the budget cutbacks to Health and Education services in Clonakilty, West Cork on Tuesday night of last week. At the monument Sinn Féin Councillor Cionnaith Ó Súilleabháin extended a Céad Míle Fáilte to all. The reason they were there was to send a clear message to the government that the budget proposals were unacceptable, and they were calling on the local Government TD Christy O' Sullivan not to support any vote in the Dáil for the budget  which included targeting the most vulnerable. Councillor Jim Daly (Fine Gael), Bernie Connolly (Green Party) and Councillor Paul Hayes (Sinn Féin) spoke.
Eamonn MacGabhann of the Independent Workers Union (which has a lot of Home Help members in West Cork) and Disability Rights Campaigner Miriam Cotton also addressed the gathering, condemning the cuts and warning people not to be duped by Government politicians and tinkering around the edges of the budget proposals.

Kilkenny

Sinn Féin members from across Carlow/Kilkenny picketed Minister John McGuinness' constituency office in Kilkenny City on Saturday, to highlight the scandalous anti worker budget. Sinn Féin EU candidate Kathleen Funchion stated:
"Once again we find a Fianna Fáil-led government pandering to the demands of banks, big business and their good buddies the property developers. When times get tough, Fianna Fáil straight away asks the ordinary taxpayer to 'Be Patriotic' and to tighten their belts. This disgraceful act of arrogance from the government parties shows the contempt with which they hold the people. What they have failed to grasp is that this is no longer 1980s Ireland. The Irish nation has a self-confidence now that did not exist 20 years ago. We will no longer be trampled on by those who think they are our 'betters.'"