23 October 2008 Edition
Fund-raising drive for Manchester Martyrs memorial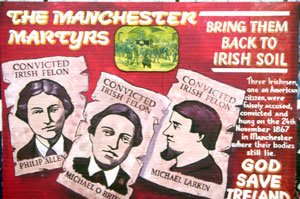 A MAJOR fund-raising drive has begun in Manchester to restore one of the most significant Irish monuments in Britain, the monument to the Manchester Martyrs in St Joseph's Cemetery in Moston.
The Manchester Martyrs  – William Allen, Michael O'Brien and Michael Larkin  – were publicly hanged on Saturday, 23 November 1867 at the New Bailey Jail in Salford.
Their executions followed a Fenian raid on a prison van in Manchester which resulted in the rescue of two leaders of the Fenian movement and the death of a police sergeant. The Manchester Martyrs protested their innocence until their deaths and the English reformer, John Bright, described their executions as "a great mistake".
The deaths of the Manchester Martyrs had huge significance for Anglo-Irish relations. Two weeks after their executions a symbolic funeral was held in Dublin. Over 80,000 people walked in driving rain behind three empty hearses bearing the Martyrs' names. The cortege continued to Glasnevin Cemetery where John Mitchel gave the oration. Similar ceremonies were held throughout Ireland. More memorials were erected to the Manchester Martyrs than to any others who had died for Irish freedom.

CAUSE CELEBRE
The Martyrs became a cause celebre for Irish people throughout the world and the journalist, MP and future Lord Mayor of Dublin, TD Sullivan, wrote the ballad God Save Ireland in their honour. For the next 50 years it was Ireland's unofficial national anthem.
A generation after the hangings – in 1897 – the Manchester Martyrs memorial committee was given permission to raise a monument to the three in St Joseph's Cemetery in Moston. Each year, a commemoration was held on the Sunday closest to 23 November, the date of the executions. This continued until the early 1970s when, with the outbreak of conflict in the Six Counties, it became a target for violent attack from right-wing extremists. The Manchester Martyrs monument itself was badly vandalised.
An appeal fund has now been established for the restoration of the Manchester Martyrs monument. You can make a donation at the address below.
Manchester Martyrs
Memorial Fund Dance
Saturday 22 November
St Ann's Parish Centre
Stretford, Manchester
The Manchester Central Memorial Committee
Co-operative Bank plc, PO Box 250,
Delf House, Southway, Skelmersdale, WN8 6WT
Sort code 089299      Account number 6530 8666