23 October 2008 Edition
UCD Sinn Féin leader arrested in fees protest at minister's visit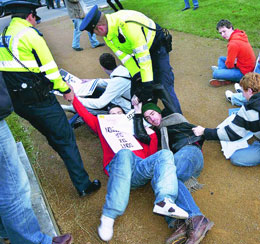 THE cathaoirleach of the Sinn Féin cumann in University College Dublin was one of two students arrested during a sit-down protest by 200 students against college fees during a visit by Finance Minister Brian Lenihan to UCD on Monday.
Lenihan was giving the inaugural address at the Clinton Institute. His visit sparked a protest by students. The minister's minders dodged the students' protest by sending in a decoy car and sneaking him in through a back door.
Outside, students chanted slogans: "No cutbacks, no fees, no Fianna Fáil TDs" and "What do we want? Free education!"
Mick Reynolds, cathaoirleach of UCD's McDonagh/Farrell Cumann, and another member of the 'Free Education for Everyone' campaign group, were arrested by gardaí on public order charges, taken to Donnybrook Garda station and cautioned before being released.
Students were protesting against the mooted return of third-level fees and the €600 increase in annual college registration fees announced in last week's Budget, which would undoubtedly price many students out of college.
Mick Reynolds said:
"It was a really successful protest that showed that UCD students are becoming more and more aware of the need to fight fees and high registration costs and any measures that Brian Lenihan is going to bring in to discriminate against students.
"I'm just sorry I missed most of it, having been picked out of a crowd by the gardaí with another young lad and dragged off to a prison cell but it was great to see so many people still there when I got back to UCD, still protesting and waiting for Lenihan to leave.
"Heavy-handed tactics won't stop anyone from Ógra Shinn Féin or any student from fighting fees. The fight is on now and if we can mobilise people like this again this is a fight we will win."