23 October 2008 Edition
Income levy controversy continues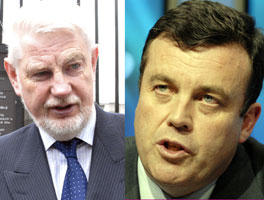 TAOISEACH Brian Cowen has now said that those earning the minimum wage will be exempt from the controversial 1 per cent income levy that formed part of Budget 2009.
Cowen said that ICTU representatives had conveyed to him that the income levy could be seen as being at odds with the draft pay agreement's focus on low incomes. Speaking in the Dáil he said that while he did not have the figures, about 850,000 workers would be excluded as a result of the Government's climbdown.
The government u-turn does not go as far as had been demanded by trade union leaders who met Cowen last week. The Government had come under serious fire from the trade unions after the announcement of the levy which unions said would in effect eliminate the additional half per cent that workers would get under the new proposed state-wide pay deal.
The Irish Congress of Trade Unions lobbied the Government to introduce a pay threshold to the levy whereby workers receiving under €23,000 per annum would be exempt from paying a levy.
Trade union SIPTU have requested that the threshold be placed at the higher figure of €38,000 per annum instead. Many trade union figures believe that the imposition of the levy will encourage workers to vote against the pay deal in ballots conducted by the trade unions as it disproportionately affects low to middle income workers. They also believe that this may have serious implications for the future of social partnership.
Congress Secretary David Begg had said that this placed the union movement in a "difficult, if not impossible position".
John Douglas, the General Secretary of Mandate trade union which represents workers in the bar and retail sectors had also called for the income limit to be set at €23,000 in line with calls from the Congress.